The facilities that are listed below are all the training facilities and schools that are approved by the Arizona Board of Nursing to offer nursing assistant training in Tempe, Arizona. If you want to know more about their training schedules, tuition fees, and other related matters, please call the number provided below each facility.
Valley Vocational Academy
1845 E. Broadway Rd. Suite 114,
Tempe AZ 85282,
Phone: 480-247-9388
(Approved by the Arizona Board of Nursing & open since May 2016.)
Brookline College
1140 S. Priest Drive,
Tempe, AZ 85281
(480) 545-8755
Website: www.brooklinecollege.edu
The completion of a training program is one of the most important steps in becoming a certified nursing assistant. To meet the goal of the Nursing Home Reform Act of providing better care for patients, all aspiring nursing assistant candidates must now receive training from a program that's approved by the state.  You may find these programs offered through hospitals, nursing homes, community colleges, high schools, government organization, and private institutions.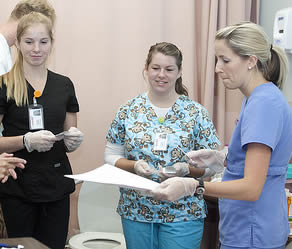 When you enroll in a CNA program, you will spend most of your time in classroom lectures and hands-on training in a nursing facility. Both lectures and practical training are taught concurrently. You will learn different nursing concepts such as medical and surgical asepsis, mental health, medical terminologies, human anatomy, therapeutic communication techniques, and other related subjects. You will also be trained in the different, basic nursing skills like vital signs taking, catheter care, assisting with ambulation and other daily activities, feeding through NGT, performing passing and active ROM exercises, and post mortem care. The state requires that programs must at least last 120 hours, which could take 12 to 24 weeks.
Once you are through with your training, you can then take the National Nurse Aide Assessment Evaluation Exam or NNAAP exam. This exam will test your competency in knowledge and skills on all the things that you have learned in the training program. If you pass both tests within 24 months after completing your training, then your name will be added to the Arizona State Nurse Aide Registry. Once it is there, you will be given a license/certificate and will be allowed to work in any certified health care facility in the state within a two year period.
If you wish to remain as an active certified nursing assistant, then you must renew your certification through the AZBN every 2 years before your license expires. To qualify for renewal, you must work for at least 8 hours as a paid CNA, while under the direct supervision of a licensed nurse. The state has now created a system that lets license holders to renew their licenses online through http://www.azbn.gov/OnlineRenewal.aspx.  Call the registry at 602-771-7800 if you have questions about steps you need to take, or the latest requirements to become certified.
If you are still looking for a place to work, then why not consider working in Tempe. This city is a part of Maricopa County. It was named after Tempe, Greece.  With a population of around 161,719 people, the demand for health care providers is sure to be high. The city is also an ideal location to be in since it is closely bordered by other cities such as Phoenix, Guadalupe, Chandler, Mesa, and Scottsdale.
With an active certification, you'll be allowed to work in any health care facility or nursing home you want to, like the East Valley Urgent Care, the Sonoran Pain Management, Advanced Urgent Care, U.S. Healthworks, Ridgecrest Healthcare, Carestone, Friendship Village, and many more. photo attribution: usdol