The nursing assistant training facilities providing classes in Chandler, Arizona are available in the list below. This list includes both facility based and non-facility based certification programs that are being offered in the city.
Conerstone Healthcare
200 N, Nebraska Street.
Chandler, AZ , 85225 USA
Phone 800-743-8013
Website: http://www.cornerstonehealthcareaz.com/CNA-PROGRAM.html
Basha High School
5990 South Val Vista Drive
Chandler, AZ 85249
(480) 224-2314
Chandler High School
350 North Arizona Avenue
Chandler, AZ
(480) 812-7616
Hamilton High School
3700 South Arizona Avenue
Chandler, AZ 85248
(480) 812-7616
Perry High School
1919 E. Queen Creek Road Gilbert
Chandler, AZ
(480) 812-7616
You need to comply with several requirements before you can work as a full-time nursing aide in this state. For example, you need to complete an approved training program, pass the criminal background checks, and take on the National Nurse Aide Assessment Program Exams or NNAAP exams.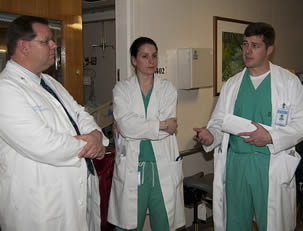 Nurse Aide Training in Arizona
All the training facilities that offer nursing aide training comply with the regulations and goals set by the federal government as stated in the OBRA of '87.  In addition to the required number of hours mandated by the Act, the state has also required all programs to offer no less than 120 hours of theory and supervised clinical practice. You can complete the majority of the training programs offered in the state within 3 months of continuous training.
The National Nurse Aide Assessment Program Exams
After you comply with the different requirements, you can then try to take the NNAAP exams. The exam involves a written and a skills demonstration exam, which are both taken on the same day at an approved testing facility. The exams are conducted with the help of the Headmaster testing company. Candidates are given 24 months after completing their training to pass both tests and become certified. Unlike most states, Arizona allows a candidate to retake as many times as necessary within the 24 month period.
Criminal Background Checks
The Board of Nursing will send you a fingerprint card for the background checks as soon as they receive all necessary materials for the NNAAP exam application. You'll need to send the card ASAP with your complete fingerprints so it can be checked immediately. It usually takes the FBI do 4 to 6 months to complete the checks. You won't get certified unless the results come back.
What's next for a CNA?
If you wish to increase your chances in climbing up the career ladder, you can try to get a medication assistant certification. Like the CNA certification process, this process will require you to undergo proper training and take a competency exam.
This city can be found situated in Maricopa County. It is one of the many suburbs of Phoenix. It has a total area of 64.58 square miles. As of the last census, their total population had reached up to 245, 628 people. If you love to travel, then you'll be glad to know that the city is surrounded by places like Tempe, Mesa, Phoenix, Gila River Indian Community, and Gilbert. If you're looking for a city to start a career as a nursing aide, then you've probably found the right one. Not only will you get the best training there is, you'll also get to experience all the wonderful things the city has to offer.
One of the requirements to get into a CMA program is to work as a nurse aide for at least 6 months. If you don't have an employer yet, you can check out these health care facilities that are found within the city limit:  East Valley Urgent Care, Take Care Clinic at select Walgreens, Arizona Priority Care Plus, Desert Valley Urgent Care Pllc, Nextcare Urgent Care, Assisted Living By Sholt, Planned Parenthood, Senior Physical Therapy, Surprise Family Doctor, and Palmer Wellness and Rehab. photo attribution: insideswcs