The CNA Salary in Wyoming can range based on the type of medical facility and location within the state.  If you're looking for a way to get into the field of medicine in Wyoming, a great career path to take is that of a certified nursing assistant or CNA.
A certified nursing assistant provides for the daily healthcare needs of people in healthcare facilities all over Wyoming. They work under the supervision of a resident nurse and provide support to doctors.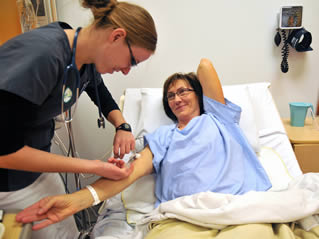 In Wyoming, CNAs are employed in a variety of healthcare facilities, including hospitals, clinics, adult daycare centers, assisted living facilities, nursing homes, and home healthcare agencies.
CNAs in Wyoming are under the state's Department of Health. This department certifies nurses and nurse aides to work in the state and approves the CNA training programs.
To be registered as a CNA in Wyoming, you need to pass the National Nurse Aide Assessment Program which is administered by the American Red Cross and Pearson VUE. Wyoming also requires criminal background checks from nurse aides seeking certification.
If you are interested in the field of medicine and enjoy the thought of being able to bring comfort to and improve the quality of life of ill or invalid individuals, becoming a nursing assistant is a great way to gain both emotional and monetary satisfaction.
According to the latest studies, a CNA in Wyoming can make about $13.56 an hour. This is quite a good rate, seeing as the average hourly salary for CNAs in the U.S. is $12.23 an hour.
According to the Bureau of Labor Statistics, as of May 2016, the average annual wage of a CNA in Wyoming was $29,010.
The salary that a CNA can expect will depend on where in Wyoming they are employed. The salaries offered to CNAs tend to vary from city to city. For a better idea of your earning potential according to where you are in the state, check out the following figures from Salary.com
Annual Base CNA Salary in Wyoming by City
Casper $29,337
Laramie $28,959
Rock Springs $28,833
Cheyenne $28,706
Gillette $27,823
Among these five major Wyoming cities, it's actually Casper, the state's second largest city, that offers the best pay rate for CNAs. The salary that a CNA can expect in Casper is bigger than that which they can expect in Cheyenne which is the state's capital.
Wyoming is rather sparsely populates, with only about 584,000 people. But there are plenty healthcare facilities looking to hire health care workers, especially for positions that entitle elder care.
According to the United States Occupational Report, there will be a shortage of health care sector employees in Wyoming in the next decade or so as the Wyoming residents over 65 and those between 45 and 65 will increasingly need health care services.
According to Healthgrad.com, these are the positions available to CNAs in Wyoming and the corresponding potential salaries.
Types of Health Care Positions and Annual Salary
Ambulatory Care $52,000
Emergency Hospital Aide $28,000
Health Services Assistant $34,000
Home Care Assistant $49,000
Hospice Care Assistant $42,000
Hospital Nursing Assistant $52,000
Nursing Home Assistant $49,000
Nutrition Care Assistant $24,000
Pediatric Care Assistant $49,000
Wound Care Assistant $44,000
Visit this page to learn more about the Wyoming CNA Registry including state requirements and contact information. If you are looking to start nursing assistant classes in Wyoming this city directory can get you started.