The schools providing CNA classes for enrollment in Mesa, Arizona are listed on this page. Each of these course has been approved by the Arizona State Board of Nursing and meets certification eligibility requirements. Contact a facility from this list to find out how you can become certified through their training programs.
Banner Baywood Medical Center
6644 East Baywood Avenue
Mesa, AZ 85206-1797
Mesa 480-321-4364
(Classes are only offered to Banner Employees)
Cactus Wren Training Program, LLC
1833 W. Main St., Ste. 138,
Mesa, AZ 85201
602-741-5526
Arizona Medical Training Institute f/k/a RSAA Training Institute
1530 N Country Club Dr #11
Mesa, AZ 85201
480-835-7679
EVIT Adult Education
1601 West Main Street,
Mesa, AZ 85201
480-461-4094
(Multiple classes available)
Website: http://www.evit.com/adulted/
Mesa Community College
1833 West Southern Avenue
Mesa, AZ 85202
480-461-7106
Website: http://www.mesacc.edu/
Pima Medical Institute
957 S Dobson Rd
Mesa, AZ
480-644-0267
Website: http://pmi.edu/locations/mesa.asp
Sun Valley High School
1143 South Lindsay Road
Mesa, AZ 85204-6298
480-497-4800
A CNA certification is a requirement to work in certified nursing facilities in Arizona. You can get certified by entering the Arizona Nurse Aide Registry after you pass the NNAAP exam. You can't take the NNAAP exam unless you complete an approved training program such as a course that's approved by the Arizona Board of Nursing (AZBN).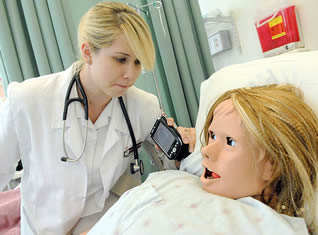 CNA programs in Arizona are offered by community colleges, hospitals, nursing homes, high schools, as well as vocational and technical training institutions. As required by the state, a program must offer at least 120 hours of instructions. When you enroll in a program, you'll be spending your time in the classroom for your theoretical lessons and in a nursing facility for your hands-on training. During the duration of your training, you and other students will be handled by a qualified CNA instructor.
During your instruction you will practice a variety of health care related duties. Some of the primary skills you will learn are: range of motion exercises, measuring vital signs (pulse, respiration, temperature, blood pressure), toileting, dressing, housekeeping, feeding & nourishment, safety procedures, infection control, transporting residents, catheter care, and caring for patients with special need.
Another way of establishing eligibility to take the NNAAP exam is by completing one semester of nursing school. Nursing students and graduates who learned the Fundamentals of Nursing may apply for the NNAAP exams, even without completing a CNA program. A person who has completed at least 100 hours of military health training as a medic or corpsman within the past 2 years may also qualify. These individuals will need to submit proof of their education and training to the AZBN to make sure.
You may download a copy of the appropriate application form through any of the following links:
–    Application forms for military trained health personnel: http://www.azbn.gov/Documents/applications/Form%20Downloads/CNA%20Education%20Waiver%20Military%20Foreign%20Graduate.pdf.
–    CNA application forms for new nursing aides and nursing students/graduates: http://www.azbn.gov/Documents/applications/App%20Packet%20Downloads/CNA%20Exam%20Packet.pdf.
After completing your training, you'll want to immediately submit your application forms to Headmaster so you can schedule for an exam date. The NNAAP exam includes a manual skills demonstration and an oral/written test, which will both be taken on the same day. Candidates are required to pass both tests within 2 years after completing their training in order to get certified.
On the day of the examination, you must arrive at the testing area at least 20 to 30 minutes before the actual start of the exam. You'll need to bring two valid I.D.'s for the check-in and two #2 pencils with eraser for the written exam. Applicants who arrive late will no longer be allowed to take the exams.
The exam results are immediately accessible online on the day that they are graded, which is 3-5 days after the exam date. If you wish to check your results, you can go to www.hdmaster.com. If you tested at a WebETest facility, then the results should be released within 24 to 48 hours after taking the exams.
After you pass, the next thing you need to do is to submit another application form, this time to the AZBN. Once they receive your application, they will send you a fingerprint card, which you must send back with your complete set of fingerprints. The prints will be needed for the criminal background checks. You won't get certified unless the FBI clears you; it can take 4 to 6 months for the FBI to release the background check results.
Mesa is a city that is part of Maricopa County. It is one of the many suburbs of Phoenix. It lies in the East Valley section of the Phoenix Metropolitan Area. This city is bordered by Tempe, Chandler, Gilbert, and the Apache Junction. This is the 3rd largest city in the state of Arizona. It has a total population of 439,041 people and a land area of 132.93 sq mile.
Health care centers that you can find in the area include Express Care, East Valley Urgent Care, Planned Parenthood, Mountaiin Vista Neurology, Cardon Children's Medical Center, and East Valley Vaccination and Examination Center. photo attribution: germannacommunitycollege