The schools offering nursing assistant training in Scottsdale, Arizona are displayed below. These programs meet the requirements of the Arizona State Board of Nursing and have been approved for instruction.
Adult Care Learning Systems, Inc.
6829 East Thomas Road
Scottsdale, AZ 85251-6826
480-634-7712
Website: http://www.adultcarelearning.com/
Scottsdale Community College
9000 East Chaparral Road
Scottsdale, AZ 85256-2625
480-423-6000
Website: http://www.scottsdalecc.edu/
Saguaro High School
6250 North 82nd Street
Scottsdale, AZ 85250
480-484-7100
Certified nursing aides or CNAs are constantly in demand in Arizona. Training to become one can be one of the best career choices you can make.  Since nursing aides can be found in various health care settings, newly certified nursing aides won't have trouble finding work.  Before you can take care of the patients, there are some requirements that you need to meet.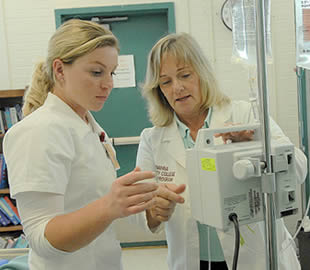 Getting the Proper Training
Receiving proper training is a very important step. You need to equip yourself with the proper knowledge and skills by enrolling in a CNA training program that's approved by the Arizona Board of Nursing.  Training programs will help every aspiring candidate prepare for the different situations that they may encounter in the clinical area.  Once enrolled, you will be spending your time in the classroom for your lectures and in a certified nursing facility for the hands-on portion of your training. While you are in the clinical area, you will be placed under the supervision of a qualified instructor.  All programs are required to last no less than 120 hours, which could take 12 to 24 weeks to complete depending on the program's schedule.
Applying for the CNA Certification Exams
Applying for the exams is the next step that you need to do after completing your training. You need to prove that you have gained the competencies necessary to be a qualified to work. The competency exams in Arizona are conducted with the help of the Headmaster testing company. It consists of a written/oral exam and a practical skills test. Candidates must pass both exams to get into the Nurse Aide Registry.  You can visit www.azbn.gov or www.hdmaster.com to download a copy of the application forms.  All applications will need to be submitted to the  address below:
Arizona State Board of Nursing
4747 N. 7th Street, Suite 200
Phoenix, AZ 85014-3655
Taking the CNA Exams
The exams consist of a written test and a manual skills evaluation. Candidates who have trouble reading can request to replace the written exam with its oral version. You need to arrive at least 20 to 30 minutes before the scheduled test. Latecomers are no longer allowed to enter the testing are once the exam has begun. In order to get into the Nurse Aide Registry, you must pass both parts of the competency exam. You will also need to bring two valid I.D.s for the check-in. To help you get a better understanding on what the exam is all about, visit D&S Diversified Technology's (Headmaster) official website and download a copy of the CNA Candidate Handbook.
After completing the two part exam you will be added to the Arizona CNA Registry. This grants you eligibility to work long term in facilities throughout the state. If you would like to learn more about requirements or ask specific questions about the exams you can contact the registry by calling 602-771-7800. Testing is administered by D&S Diversified Technology Testing Company. You can red more about the test requirements and recommendations at their website found at www.hdmaster.com.
The Nurse Aide Registry
Employers will always check the names of their applicants on the NAR before hiring them. According to the OBRA of '87, only persons who are on the registry are allowed to work as long-term nursing aides. To keep your name on the registry, you will have to renew your certification every 2 years.  You must work for at least 8 hours as a paid nursing aide while under the supervision of an RN to qualify for renewal.  To make things easy, you can now renew your certification online via http://www.azbn.gov/OnlineRenewal.aspx.
Scottsdale is situated in Maricopa County. It is just adjacent to Phoenix. As of the census of 2010, their population has now reached up to 217,385 people. This city is surrounded by Phoenix, Paradise Valley, Carefree, Tempe, the Fountain Hills, and the Salt River Pima-Maricopa Indian Community. It has a total area of 184.2 sq miles and a population density of 1,305.2/sq mile.
Scottsdale Healthcare and Scottsdale Insurance Company are two of the largest employers in the city. Each company has more than 1,000 employees. Other health care centers that you can find in the area include AllCare Internal Medicine, Allergy Asthma & Immunology Associates, Ltd., Arizona Asthma & Allergy Institute, AllCare Internal Medicine, and Digestive Health Specialists. photo attribution: germannacommunitycollege