The schools that are available for nursing assistant classes in Peoria, Arizona are listed here. These programs meet the requirements of the Arizona State Board of Nursing and are approved certification courses.
Sun Grove Village Care Center
20625 N Lake Pleasant Rd
Peoria, AZ 85382-9704
623-566-0642
Medstar Academy
8282 West Cactus Road
Peoria, AZ 85381
623-773-9000
Website: http://www.medstarcnaschool.com/
Centennial High School
14388 North 79th Avenue
Peoria, AZ 85381-4682
623-412-4400
Sunrise Mountain High School
21200 North 83rd Avenue # 101
Peoria, AZ 85382-5491
623-487-5125
The completion of a certified nursing assistant program is a necessary step in becoming a CNA in Arizona. Candidates must equip themselves with the knowledge and skills needed to properly take care of the patients. Approved programs can be found being offered by colleges, high schools, as well as health care centers such as hospitals and nursing homes. Since the state does not have an age limit, programs are available to those who wish to have a career in healthcare.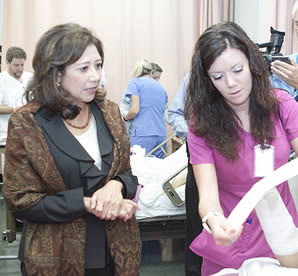 Before you enroll in a program, you must make certain that the program you choose is approved by the Arizona Board of Nursing. This way, you will be sure that you will become eligible to take the CNA exams once you finish your training. Approved training programs are required to offer 120 hours of instructions, which must be divided into classroom instruction and supervised practical training. The majority of the programs offered in this state can be completed within 3 months.
You cannot take the exams without completing an approved program. The good news is: you can establish eligibility by meeting any of the following:
–    Completing one semester of nursing school, learning the Fundamentals of Nursing as a nursing student or graduate.
–    Receive 100 hours military training as a health care personnel as a medic or corpsman.
–    Complete a 120 hour course that is certified by another state.
–    Complete a 75 hour program and have 45 hours of working experience as a nursing assistant.
The CNA exams are divided into two parts, which are a written exam and a skills evaluation exam. Both tests are conducted on the same day at an approved testing facility with the help of the Headmaster testing company. Candidates who have trouble reading English can request to take an oral test instead of the written exams. If a candidate passes both tests within 24 months after completing his or her training, then the candidate may apply for entry into the Nurse Aide Registry.
According to the Nursing Home Reform Act, only certified nursing assistants are allowed to work long-term in certified nursing facilities. The only way you can get certified is by receiving proper training and getting into the Nurse Aide Registry. The most common way of getting into the NAR is by taking the exams.
Another method of gaining entry into the NAR is by applying for endorsement/reciprocity. The process of reciprocity allows a certified nursing assistant from another state to transfer his certification into Arizona without the need for testing. You can apply for reciprocity if you have an active certification and any of meet any of the following:
a.    Was able to work as a nurse aide for at least 160 hours.
b.    Was able to meet federal and state training and testing requirements within the last 24 months.
c.    Currently working as a certified nursing assistant in a certified health care setting while being able to maintain a clean record.
Once you're certified, you'll be allowed to work in any health care center in Peoria. This city is a wonderful place to start a career in healthcare.  It is a city that is a part of Maricopa and Yavapai Counties. But primarily it is a part of Maricopa County and is a major suburb of Phoenix. As of the 2010 census, their total population is 154,065. It ranks as the 9th most populous city in the entire state. Also, it currently ranks as the 6th largest city in Arizona in terms of land area. Its total land area is approximately 138.2 sq miles.
Health care centers that you may find in the area include Cactus Chiropractic, Take Care Clinic at select Walgreens, AAA Nowcare, Alliance Urgent Care, Banner Arizona Medical Clinic, Concentra Medical Center- Northwest, Nowcare, and The Pain Center of Arizona. photo attribution: usdol