The nursing aide classes offered by education facilities in Rio Rico, Arizona listed on this page are all open for enrolment. If you know other school certification instruction that is being offered as of the moment, contact us and we will add them to the page.
Rio Rico High School
1220 Camino Lito Galindo
Rio Rico, AZ 85648
(520) 325-4870
There are several different ways for you to start a career in the field of health care. You can choose from different careers, which some of them have their own distinct roles and responsibilities.  If you wish to enter the field without spending too much time and money in training, then we suggest that you aim to become a certified nurse aide.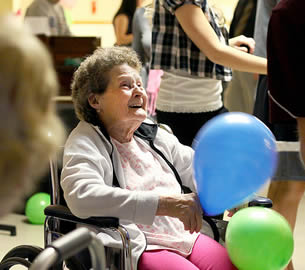 A certified nurse aide is a person who is trained to assist RNs and LPNs in providing and maintaining nursing and nursing-related care to patients who are in different health care settings like nursing homes and hospitals.  They are entry-level health care personnel who work under the supervision of licensed nurses.
The State of Arizona does not allow a person to work as a nurse aide without being certified. The only way for those who have never been CNAs before to get certified is to take and pass the certification exams. There are several requirements that must be met before one is allowed to take the certification exams.  These include undergoing physical and medical exams, getting complete immunizations, and completing a CNA training program.
Although there are different ways to qualify for the certification exams, completing a CNA program is the most common. These programs can be found all across the state, being offered by hospitals, nursing homes, community colleges, vocational schools, technical colleges, and government organization. Since the state does not have an age restriction to work, high schools are now offering nurse aide training so that even high school students can learn.
Nurse aide curriculum always consists of theory and practical training. They are closely monitored by the Arizona Board of Nursing to ensure that they offer their students, training that meets federal and state standards. Approved programs are required to last for at least 120 hours. During the hands-on training portion of the program, students must be placed under the supervision of a qualified CNA instructor. Most of the programs offered in the state can be completed within 3 to 6 months depending on the program schedule.
Nursing aide has become such a popular profession that even military trained medics, corpsmen, and nursing graduates are now trying to become licensed.  These individuals are allowed to immediately apply for the competency exams because of the training that they received. They will have to provide proof of their education and training by submitting their transcripts along with the application forms.
After you complete your training, you will have 24 months to take and pass the competency exams. This is a two part examination that consists of a multiple-choice knowledge test and a random skills exam.  The knowledge test may either be taken as a written or oral examination. Candidates will have 90 minutes to answer all questions on the knowledge test an 35 minutes to perform 4 required nursing skills in front of a CNA evaluator.  If you pass both tests, then you will be allowed to submit an application for the state's Nurse Aide Registry (http://www.azbn.gov/Documents/applications/App%20Packet%20Downloads/CNA%20Exam%20Packet.pdf).
Before you can get certified, you will have to submit your fingerprints on a fingerprint card and undergo the criminal background checks. You will not get certified if you have any felony convictions that have not been fully discharged. The FBI checks may take 4 to 6 months. You won't get certified until then. The Arizona Registry can help you with what you need to qualify for your license as well as answer questions you may have, and can be reached by calling (302) 577-6666.
This is a census-designated place that is located in Santa Cruz County. According to the census of 2010, their population has now reached up to a total of 18,962. Rio Rico has a total area of 62.3 square miles, where all of it is land. Its population density is 304.6/sq mile.
Health care centers that you can find in Rio Rico includes Take Care Clinic at select Walgreens (866) 825-3227, Mariposa Community Health Center At Rio RICO (520) 377-9410, Echeverria Alfonzo, M.D. (520) 377-9410, and many more like them. photo attribution: jmsmith000