You can get up to date information about the CNA classes located in Tucson, Arizona in the list below. The page includes all the facility and non-facility based programs that are currently being offered in the city. Call a school to learn more about how their program can help you receive your certification.
La Canada Care Center
7970 North La Canada Dr.,
Tucson, AZ 85704
(520) 797-1191
La Colina Health Care
2900 East Milber Street,
Tucson, Arizona 85714
(520) 294-0005
Mountain View Care Center
1313 West Magee Rd.,
Tucson, AZ 85704
(520) 797-2600
Pueblo Springs Rehabilitation Center f/k/a Valley Health Care
5545 East Lee Street
Tucson, AZ
(520) 296-2306
Southern Arizona Veterans Administration Medical Center
3601 S 6th Ave
Tucson, AZ
(520) 792-1450
Tucson Medical Center Healthcare
5301 E. Grant Road
Tucson, Arizona 85712
(520) 324-5980
Website: https://www.tmcaz.com/
Caregiver Training Institute
1940 E Silverlake Road, Suite 402,
Tucson, AZ
(520) 325-4870
Website: http://cgtiaz.org/
Pima Community College CTD – Desert Vista
6680 South Country Club Road
Tucson, AZ
(520) 206-5140
Pima Community College
401 N. Bonita Ave
Tucson, AZ 85709
(520) 206-4500
Website: http://www.pima.edu/
Tucson College
5151 E Broadway Blvd #155
Tucson, AZ
(520) 296-3261
Website: http://www.tucsoncollege.edu/
Pima County Joint Technical Education District
8727 E. 22 St.,
Tucson, AZ
(520) 352-5833
[They also offer summer classes]
There are several different ways to gain entry into the healthcare industry as a nursing aide. For those who have not yet received any proper training as nursing aides, they must undergo proper training before they can take the National Nurse Aide Assessment Program Exams to get certified. The state does not allow any individual to work as a full-time nursing aide without an Arizona certification.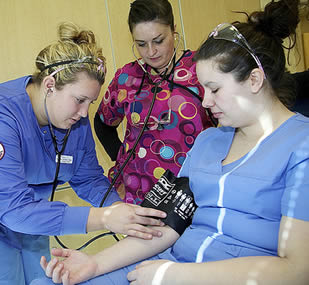 Due to the number of people who are now trying to become nursing aides, nursing aide training programs are now being offered by hospitals, nursing homes, community colleges, private training centers, and government organizations. These programs are available to anyone who wishes to become nursing aide, even high school students.
Arizona nursing assistant training consists of 120 hours instructions of classroom lectures and hands-on training. During the duration of the program, students are handled by a qualified nurse who has experience in supervising nursing aides and/or training adults. Students are not allowed to perform any procedure without knowledge or presence of their instructor. Depending on the program you choose, it can take you 3 to 4 months to complete your training.
After you complete your training, you will then be allowed to apply for the NNAAP exams. Your program instructor will help you complete the necessary application requirements. There are even some training facilities that complete the application process for their students. If you do not have the necessary forms, you may visit www.hdmaster.com. You can also download a copy of the CNA Candidate Handbook, which contains detailed information about the exams, necessary application forms, and sample tests that students can practice.
The NNAAP exams are provided in two parts, and you will need to pass both tests within 24 months after completing your training to get certified. These tests are a written examination and a practical skills exam. Upon request of the applicant, the written exam may be replaced with an oral examination if the applicant has difficulty in reading English. Those who pass both tests will be allowed to apply for the NNAAP exams and undergo the criminal background checks.
Another way of getting into the Nurse Aide Registry and receive an Arizona CNA certification is by applying for endorsement or reciprocity. When applying for this process, it is important that one must have an active status and a clean record. Applicants through this process are still required to get fingerprinted and undergo the criminal background checks. Aside from having an active license upon application, the state also requires applicants to be currently practicing the profession. You can find out more once you download the application forms for endorsement via http://www.azbn.gov/Documents/applications/App%20Packet%20Downloads/CNA%20Endorsement%20Packet.pdf
Tucson is the county seat of Pima County. It is a situated southeast of Phoenix and is about 60 miles from the U.S.-Mexico Border. As of the latest census their total population has now reached up to 520,116 people. It is currently the 32nd largest metropolitan city in the country. It has a total area of 195.1 sq miles and a population density of 2,793.6/sq mile.
Health care centers that you can see in the city include First Chiropractic, El Dorado Urgent Care, Take Care Clinic at select Walgreens, Urgent Care Associates, Urgent Care Associates, St Elizabeth of Hungary Out-Patient Clinic-Appointments and Information, and Arizona Medical Services PC. photo attribution: germannacommunitycollege