All the nursing assistant schools providing instruction in Flagstaff, Arizona are listed on the page below. Contact one of the facilities to learn how you can enroll, get the tuition rates, or find out the current course curriculum.
Coconino Community College
2800 South Lone Tree Road
Flagstaff, AZ 86001
(928) 527-1222
Website: http://www.coconino.edu/
College America Flagstaff
3012 East Route 66.
Flagstaff, AZ 86004
(928) 213-6060
Website: http://www.collegeamerica.edu/
Being a nursing assistant in the State of Arizona is one of the best ways for you to start a career in healthcare. Aside from becoming one being quick, there are also numerous job and job opportunities for those who are in this line of work. If you're starting to consider becoming one, then you should know what requirements you'll need to meet.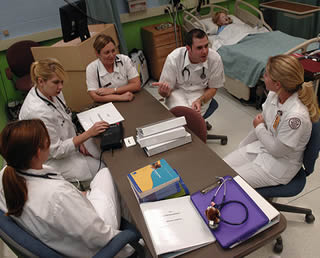 Getting the Proper Training
Receiving proper training is always a necessity when starting a new career. You must equip yourself with the knowledge and skills necessary to become a competent nursing assistant. You'll need to learn proper communication skills, basic nursing procedures, as well as how to assist in the daily activities of the patients like bathing, eating, dressing, toileting, and ambulating.
This can be achieved by enrolling in a CNA training program. When selecting a program to enroll in, you must choose only a program that's approved by the Arizona Board of Nursing (AZBN). Approved programs consist of 120 hours of training, which consists of classroom instructions and supervised clinical practice. Both theory and practical training are taught concurrently. Depending on the program you choose, it can take 3 to 4 months to complete your training.
Getting a Nursing Assistant Certification
The OBRA of '87 mandates that only a certified nursing assistant may work long-term in a certified nursing facility. You can only get certified in Arizona is if you take and pass the CNA competency exams. You need to prove that you are a capable nursing assistant by taking these examinations. The competency exam is designed to test candidates in both knowledge and skills. Candidates are required to pass both written and manual skills tests in order to qualify for entry into the Nurse Aide Registry.
The Nurse Aide Registry
The Nurse Aide Registry is a complete list of all persons who were able to meet both the federal and state's training and testing requirements. Only the individuals whose names are on the registry are allowed to work in a Medicaid/Medicare health care facility as a CNA.
Certified nursing assistants are required to renew their certifications through the AZBN every 2 years to keep their names on the Registry as well as maintain an active certification. If a nursing assistant fails to renew his/her certification, the certification will be considered lapsed or expired. No CNA is allowed to continue working with an expired certification.  To qualify for re-certification, you need to work as a paid nursing assistant for at least 8 hours while under the supervision of a registered nurse. To make things easier, the AZBN has created an online site where you can renew your certification. You just need to follow this link: https://www.azbn.gov/MyServices/Login.asp.
Flagstaff is a city that is located in the northern parts of Arizona. It is the county seat of Coconino County. As of the latest census, their total population has reached up to 60,611. It got its name from a Ponderosa Pine flagpole made by a scouting party from Boston. A major road that you can access to get to this city is Route 66. It has a total area of approximately 63.9 sq miles and a population density of 1,031.3/sq mile.
The primary hospital of the city is the Flagstaff Medical Center. Other health care facilities that you can find in the area include Plastic Surgeons Of Northern Arizona, Planned Parenthood, Take Care Clinic at select Walgreens, Arizona Behavioral Health Associates PC, Foot Care Specialists Of Arizona, First Care Nursing, NACA Family Health Center, and Northern Arizona Dermatology Center. photo attribution: germannacommunitycollege