The certified nurse side schools found in Camp Verde, Arizona that are listed on this page contains all the programs being offered as of this moment. To get more information about the requirements to receive certification call the center's phone number listed below.
Verde Vista Rehab and Care Center
15 E State Route 260
Camp Verde, AZ 86322-6864
928-567-5253
If you plan to work in the state of Arizona as a nursing assistant, it's important that you know what the requirements are to become one.  The state requires aspiring nursing assistants to have a license before working as a full-time nursing assistant.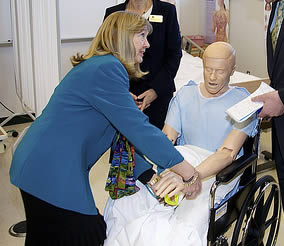 To get one, you must take on the state competency exams right after you complete CNA classes that are approved by the Arizona Board of Nursing. You'll also need to pass the background checks, get a physical exam to determine your state of health, and complete all your necessary immunizations.
Nursing assistant classes in this state consist of 120 hours of instructions. These hours are divided into theory and practical training. Students will be equipped with the knowledge and skills they will need to meet the individual needs of the patients. During the duration of the practical training, students will be placed under the care of a CNA instructor. Compared to other career trainings, you can complete your nursing assistant training in Arizona in a matter of 3 months.
The increased demand for nursing assistants has also caused new job opportunities for registered nurses. If you're a licensed nurse in Arizona who wants to take a break from the usual routine, then why not become an instructor.
To be one, you need to have: a. An active/valid license as a nurse with good standings; b. Have at least 2 years of nursing experience where one must be spent working in a long-term care facility; and c. You must have some experience in supervising nursing assistants or in training adults.
Upon completing your training, you'll be allowed to apply for the competency exams. Taking this exam is the final step in becoming a CNA in Arizona. This exam is divided into two parts, which consists of a 90 minute knowledge test and a 35 minute skills evaluation. Candidates have the option to choose whether they want to take an oral or written exam for the knowledge examination. Every candidate is allowed to retake the exams as many as necessary to pass within 2 years after completing their training. If a candidate fails to pass within the 2 year limit, he/she will have to complete another training program before he or she can reapply once more.
A candidate who passes both tests will be entered into the Nurse Aide Registry and will be certified as soon as the FBI releases the results of the criminal background checks, which can take 4to 6 months. Once you become certified, you'll be allowed to work in any city in Arizona.
Camp Verde is a great place to start a career in the field of health. It is a town that's part of Yavapai Country and has a total land area of 42.6 sq. miles. It's an ideal place for nature lovers since the town is typically surrounded by the Prescott National Forest. You can also find the Mogollon Rim just north of the town.
Once your name is listed on the NAR, you will have to work as a paid nursing assistant for at least 8 hours to qualify for recertification. Examples of the healthcare centers that you can find in the area include Camp Verde Health Center (928) 567-5257, Turner Chiropractic (928) 567-6388, Adams Richard A Internal Medicine – Camp Verde Health Center (928) 639-5565, and STD Test Express (928) 237-9337. photo attribution: germannacommunitycollege