The facilities offering nurse aide training in Globe, Arizona are shown to you below. These programs have met the requirements and have been approved by the Arizona State Board of Nursing. If you know other certified courses that are being offered in Globe, please contact us and we will add them to the list.
Gila Community College/Eastern Arizona College Gila Pueblo Campus
8274 Six Shooter Canyon Rd.
Globe, AZ 85502-2656
520-428-3151
Website: http://www.gilaccc.org/
The state of Arizona is one of the best places to start a career as a nurse aide. The demand for nurse aides in this state are very high, there will be no problems when you look for work as long as you have the proper requirements. You'll also be happy to know that this state also has a lot of career advancement opportunities.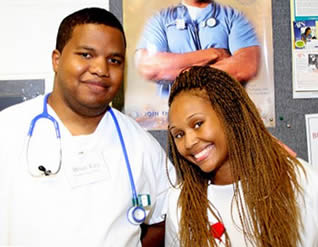 The most important thing that you need to have to work as a nurse aide is a CNA license. You can't work in any healthcare without it.  You'll only get one if your name is entered into the Arizona Nurse Aide Registry. You can get into the NAR by passing the license exams right after you complete a training program that's approved by the Arizona Board of Nursing (AZBN). You'll also be required to pass the national background checks for criminal records before you can be given a license.
Completing an approved CNA program is one of the best ways to qualify for the license exams. They take around 120 hours to complete and can be found all throughout the state. Since the state doesn't have any age restrictions, high school students may also enroll in a program. Nurse aide training curriculum is divided into theoretical course instructions and supervised clinical practice, which are both taught at the same time.  Depending on the program you choose, it can take you around 3 to 4 months to complete your training.
The license exams are conducted with the help of Headmaster because of the number of people who are now aiming for a career as nurse aides. The license exams consist of a written test and a manual skills demonstration. Candidates are required to pass both tests within 24 months after completing their training to get into the NAR.
After getting the license, a nurse aide will be allowed to work in any nursing facility within the state. To keep on working, nurse aides are required to renew their licenses every 2 years through the Board of Nursing. CNAs must work, for compensation, for at least 8 hours in providing nursing and nursing-related care to patients while under the supervision of a registered nurse. To make the process easier, license holders can now renew online via http://www.azbn.gov/OnlineRenewal.aspx.
If you wish to improve your knowledge, skills, as well as responsibilities as a health care provider, you can try to get a CMA certification. Getting this certification will allow you to administer certain medications to patients, while still under the supervision of licensed nurses. In order to get one, you'll still be required to enroll in a CMA program and take a competency evaluation exam.
You may qualify to enroll in a CMA program if you:
–    Have worked as a one for at least 6 months and was able to maintain a good record.
–    Are at least 18 years old
–    Were able to pass the math and reading comprehension screening tests
–    Have at least a high school diploma or something equivalent, like a GED.
If you wish to get this certification, you can find out more by following this link: http://www.azbn.gov/EducationCMAPrograms.aspx. You can also call the AZBN at 9602) 771-7800 if you want to talk to a representative.
This city is located in Gila County. It is also the county seat there. As of the 2010 census, their population has now risen up to 7,532. This city was originally a mining camp back in 1875. Today, the major part of the economy there is centered on mining, tourism, government and retirees. Globe has a total area of 18.0 sq miles where almost all of it is land. Its population density is 418.4/sq mile. This city is just adjacent to Miami and the San Carlos Apache Indian Reservation.
Health care centers that you can find in the area include Planned Parenthood, Cobre Valley Internal Medicine, Islam Shahedul MD, Dal Molin Chiropractic Care, Dal Molin Chiropractic Care, U S Government Bylas Health Center – Public Health Nursing, and Red Rock Healthcare. photo attribution: germannacommunitycollege