The nursing assistant training programs in Holbrook, Arizona that are licensed and approved by the Arizona State Board of Nursing are listed here. Contact the school using the phone number shared on this page to learn more about their certification instruction.
Northland Pioneer College
103 North 1st Avenue
Holbrook, AZ 86025
(928) 532-6133
Website: http://www.npc.edu/
Before you are allowed to handle nursing home residents, you must first enroll in a CNA training course and receive proper training. You must be equipped with the different competencies that will be needed to take care of the patients. The program you choose should be approved by the Arizona Board of Nursing to ensure that you'll be eligible to take the CNA exams afterwards.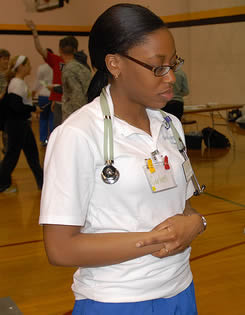 As required by the state, an approved program must offer at least 120 hours in both theoretical lessons and skills training.  They must teach the students how to handle different situations that they might encounter while taking care of the patients. They need to learn the different aspects of the Fundamentals of Nursing like emergency care, safety precautions, mental health, medical ethics, medical terminologies, residents' rights and independence, personal care, and other related concepts and skills.  You'll be able to find these programs by different educational institutions and healthcare facilities.
Completing an approved program is necessary to qualify for the CNA exams. However, it isn't the only way an aspiring candidate may qualify. Nursing graduates and students who were able to learn the Fundamentals of Nursing through a certified nursing school may also apply for the exams. They'll need to provide an original copy of their transcripts in order to show proof of their education and training.
The State of Arizona has requested the assistance of the Headmaster testing company to help schedule, conduct, and release the score reports of the exams. Candidates who weren't able to receive the application forms from their instructors or programs may get them from www.hdmaster.com. They can also download a copy of the Candidate Handbook to give them a more detailed idea of what the exams are all about. All applications must be sent to:
D&S Diversified Technologies, LLP
Headmaster LLP
P.O. Box 6609
Helena, MT 59604-6609
Phone: (800) 393-8644
Fax: (406) 422-3357
Email: hdmaster@hdmaster.com
Website: www.hdmaster.com
The exams are divided into two parts, which are a multiple-choice written exam and a random manual skills evaluation. Candidates will have 2 hours to answer all questions on the written exam and 25-30 minutes to perform all required nursing procedures in front of a CNA evaluator.
Candidates must pass both tests within 2 years after completing their training to get into the Nurse Aide Registry and become certified nursing aides. They are allowed to retake the exams as many times as needed within the 2 year period. If they still fail, they will have to undergo retraining before they can reapply once more.
If you wish to know more about how to become a certified nursing aide, you can visit the Arizona Board of Nursing official website at www.azbn.gov. You can also talk to a representative by calling (602) 711-7800.
This city is a part of Navajo County. As of the latest census, their total population has reached over 5,126. Holbrook is also the county seat for Navajo County. It was founded back in either 1881 or 1882 and was name after the chief engineer of the Atlantic and Pacific Railroad. It has a total of 15.4 sq miles and a population density of 318.4/sq mile.
Examples of the many health care centers and providers that you can find in the area include Take Care Clinic at select Walgreens (866) 825-3227, North Country Community Health (928) 524-2851, Little Colorado Physician (928) 524-2462, Petrified Forest Medical Center Inc. (928) 524-3913 Maestas Andrew MD, and Casanova Francisco A. photo attribution: mdng