The certified nursing assistant training programs that are being conducted in Parker, Arizona are being shown in detail, on this page. The programs provided here are all approved by the Arizona Board of Nursing. If you wish to know more about their training, please contact the number provided below or visit their official webpage.
Arizona Western College – La Paz Campus
601 West 11th Street
Parker, AZ 85344
(928) 669-2214
Website: www.azwestern.edu/
Regional Center for Boarder Health, Inc. – CRIT Special Diabetes Project
12307 Kennedy Dr.
Parker, AZ 85344
(928) 669-2825
The state of Arizona requires its CNAs to have a license or certification when they work in any long-term healthcare setting, especially in hospitals or nursing homes. The state's requirements in getting a certificate are a lot similar to others. Aspiring candidates will need to gain entry into the Nurse Aide Registry by passing the National Nurse Aide Assessment Program Exam right after they complete a state-approved training program.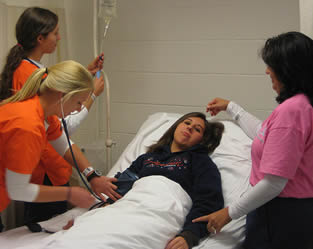 The advantage of becoming a nursing assistant is that there are plenty of ways for you to become one. The most common way of learning how to become a nursing assistant is to successfully complete a class. The program that you choose in Arizona must be approved by its Board of Nursing to ensure that you'll be allowed to apply for the NNAAP exams afterwards.
CNA training in Arizona takes a minimum of 120 hours to complete. Once you're enrolled, you'll be spending most of your time in the classroom for theoretical course work and in the clinical area for your practical training. You'll be taught important nursing skills and concepts like infection control, basic nursing care, medical terms, human anatomy, personal care, therapeutic communication techniques, safety and emergency care, and many more.
Depending on the program you choose, it can take you 3 to 4 months to complete your training. After you complete your training, the next step is to apply for the NNAAP exam. This is a two part examination, which consists of a 90 minute written test and a 35 minute skills exam. Candidates are required to pass both exams within 2 years after completing their training. This exam is conducted by the D&S Diversified Technologies testing company. You can download the application forms from their website at www.hdmaster.com and send them along with the other requirements to:
D&S Diversified Technologies, LLP
Headmaster LLP
P.O. Box 6609
Helena, MT 59604-6609
Phone: (800) 393-8644
Fax: (406) 422-3357
Email: hdmaster@hdmaster.com
Website: www.hdmaster.com
After passing the exams, you then need to submit another application form, this time to the Arizona Board of Nursing. They will then send you a fingerprint card for the criminal background checks along with detailed instructions on what to do. You can follow this link for more information: http://www.azbn.gov/Documents/applications/App%20Packet%20Downloads/CNA%20Exam%20Packet.pdf.
Once you get certified, you'll be allowed to work in any health care facility in Parker, Arizona. Parker is the county seat of La Paz County. You can find this town on the Colorado River, which is in Parker Valley. As of the latest census, their total population is 3,140. Its total area is approximately 22.0 sq miles. It has a population density of 142.7/sq mile. The town was named after Ely Parker, who was the very first Native American commissioner of the government.
CNA certifications in Arizona are only valid for 2 years. Nurse aides who wish to continue their eligibility to work as nursing assistants must renew their certifications through the AZBN every 2 years. To qualify for renewal, candidates will have to work for compensation in a certified health care facility for at least 8 hours while under the supervision of a licensed nurse.
Examples of health care centers that you can find in the area include Parker Medical Center 928-669-2225, CVS/pharmacy 928-669-6168, Take Care Clinic at select Walgreens (866) 825-3227, La Paz Family Practice (928) 669-9700, Colorado River Indian Tribes Parker Offices – Behavioral Health (928) 669-3256. photo attribution: auburnalumniassociation