The certified nursing assistant schools that are found in Prescott Valley, Arizona are being offered here. The list contains all the available instruction courses that are approved by Arizona State Board of Nursing and available as of this moment.
Yavapai Healthcare Academy
7749 East Florentine Road
Prescott Valley, AZ 86314
(928) 775-0525
Website: http://www.yavapaihealthcareacademy.com/
Bradshaw Mountain High School West
6000 East Long Look Drive,
Prescott Valley, AZ 86314
(928) 759-4100
If you are looking for a way to enter the health care industry, then you should consider becoming a nursing aide in Arizona. Certified nursing aides are in demand, not just in Arizona, but in other states as well. With the increasing population in the United States, there will always be jobs waiting for fresh graduates.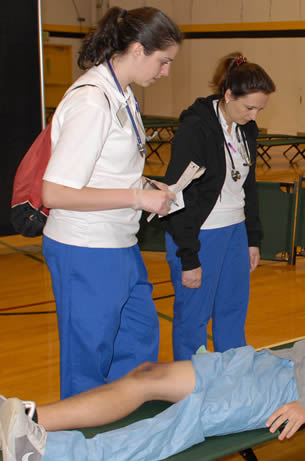 You can only work in Arizona as a CNA if your name is on the Registry, and if you have a valid certification, which shall only be given once your name is listed.  The most common way of entering the NAR is by passing the National Nurse Aide Assessment Program examination (NNAAP exam).  This exam is a two part examination that consists of a multiple-choice knowledge test and a skills evaluation exam. You can only take the NNAAP exam if you complete a state-approved training course.
To qualify for the NNAAP exams, all you need is to meet any of the following:
–    Be able to complete a 120 hour CNA course, that is offered in Arizona and is approved by the state's Board of Nursing.
–    Successfully complete an RN or LPN program or at least meet the requirements to take the RN/LPN license exams in Arizona.
–    Show proof of completing a 120 hour class that is approved in another state.
–    Complete a 75 hour certified class and work for a minimum of 45 hours as a nursing aide.
–    Train for at least 100 hours of military health training as a medic or corpsman within the last 2 years.
You can immediately submit your application for the NNAAP exams once you establish your eligibility. You may visit www.azbn.gov or www.hdmaster.com to download the appropriate application forms.  The forms will include detailed instruction on what to do. If you need help with the application process, you can call (602) 771-7800.
Applicants who are able to pass both portions of the NNAAP exam will gain entry into the Nurse Aide Registry and will be certified.  Once your name is listed on the Registry, you'll be allowed to work in any certified nursing facility in the state. You need to keep your name on the registry and your certificate to keep on working.  To do this, you must renew your certification every 2 years.  The state requires employees to work for at least 8 hours as a paid nursing aide to qualify for renewal.
If you wish to improve your knowledge and skills as a nursing aide, you can try to get a medication aide certification. Getting this certification will let you give certain medication to patients, while still under the supervision of a registered nurse. To become a CMA you will have to enroll in a state-approved CMA program and pass the medication aide competency exams.  You can follow this link (http://www.azbn.gov/documents/education/CMA/CMA%20Course%20Guidelines%20and%20Curriculum.08.2010.pdf) to see the requirements to become a CMA in Arizona.
Prescott Valley is a town that is in Yavapai County. You can find this town a few miles east from Prescott. It is also about 85 miles north of Phoenix. Major roads that you can use to get to this town include State Route 89 and State Route 69. As of the 2010 census, their population has grown up to 38,822 people. This town has a total area of 38.7 sq miles, where all of it is land and a population density of 1,004.4/sq mile. The main economy of this town is centered on industrial, manufacturing, retail and other services.
Health care centers and providers that you can find in the town include Prescott Valley Primary & Urgent Care Clinic, Family Health Care Clinic, Futral Chiropractic & Wellness Center, Kachina Healing Center LLC, Severson Lance R, Planned Parenthood, West Yavapai Guidance Clinic, Rosenberg Robert S DO Fccp, STD Test Express, and Community Health Center of West Yavapai. photo attribution: mdng