The nursing assistant schools offering programs that are currently open for enrollment in Bullhead City, Arizona are all listed below. If you want to find out more about the classes that are being offered, please contact them using the phone numbers listed here.
The River Gardens Rehab & Care Center
2150 Silver Creek Road
Bullhead City, AZ 86442-8472
928-763-8700
Mohave Community College
3400 Highway 95
Bullhead City, AZ 86442
928-505-3378
Website: http://www.mohave.edu/
Before you can work as a nurse aide in this state, you'll need to get certified. There are several different requirements that must be met before you can get certified. Like in other states, you'll be required to complete a state-approved training program and pass the National Nurse Aide Assessment Program examination.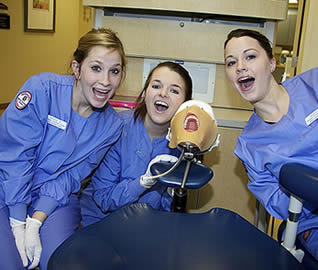 Due to the number of persons who are aiming for a career in the field of health, you can now find nurse aide training programs being offered by hospitals, nursing homes, private training facilities, high schools, community colleges, and vocational and technical schools. When selecting a program to enroll in, you just have to make sure that it is approved by the Arizona Board of Nursing.
General requirements to be accepted into an approved program:
–    Age: since the state does not have any age restriction, even high school students may enroll in an approved program.
–    Health: must be in a state of good health; free from any communicable diseases such as TB.
–    English: English proficiency is necessary since the majority of the population speaks this language.
–    Education: interested candidates must at least know how to read and write.
–    Background: should not have any felony convictions.
Receiving proper training is a requirement to apply for the NNAAP exams. Although you only need to have a minimum of 75 hours of theory and 16 hours of practical instructions to qualify, the majority of the programs in the state offer no less than 120 hours of training. Examples of the skills and concepts that are taught in a program include, but are not limited to, the following:
•    Basic nursing skills
•    Infection control
•    Mental health
•    Medical terminologies
•    Therapeutic communications
•    Safety and emergency care
•    Roles and responsibilities
•    Rights and independence of the patients/residents
•    Personal care
•    Human anatomy
After completing your training, you may now submit your application for the NNAAP exam. You can download a copy by going to www.hdmaster.com or www.azbn.gov if your instructor does not provide you with the necessary forms. All applications must be sent to:
Nursing Assistant Training Program
Arizona State Board of Nursing
4747 North 7th Street, Suite 200
Phoenix, AZ 85014-3633
The NNAAP exam consists of a multiple-choice knowledge test and a skills evaluation exam. Candidates are required to pass both tests to get into the Nurse Aide Registry and become a certified nurse aide. Candidates have 24 months after completing their training to pass the NNAAP exam. Unlike most states, each candidate is allowed to retake the exams as much as needed within the 24 month period.
Bullhead is a part of the southern part of Mohave County. It is located on the Colorado River and to the south of the city of Las Vegas. As of the 2010 census, their total population has now reached to 39,540 people. Nearby places include Mohave, Mohave Valley, Laughlin, Needles, and Fort. This city has a total area of 59.4 sq miles where all of it is land.
Once you get certified, you'll be allowed to work in any healthcare facility within the state. If you wish to remain in Bullhead City, here are some examples of health care facilities where you can work:  Health care centers and providers that you can see in the area include All Women's Medical Center, Altius Healthcare, Aban Care Clinic, Southwest Behavioral Health, Mohave Valley Medical Center, Mohave Mental Health Clinic Inc., Fresenius Medical Care, and Western Arizona Regional. photo attribution: germannacommunitycollege