The CNA training centers in Glendale, Arizona are listed for you in detail on this page. These schools are all the certified training programs that are open for enrollment at this time. If you have any questions, please call the number provided below.
Life Care Center of North Glendale
13620 North 55th Avenue
Glendale, AZ 85304-13
(602) 843-8433
Banner Thunderbird Medical Center
555 West Thunderbird Rd
Glendale, AZ 85306
(602) 865-5775
[Classes are being offered to Banner employees only]
K's Training & Learning Center, LLC
8751 N. 51st Avenue Suite 106
Glendale, AZ 85302
(602) 350-5154
The Nelson Academy
7145 N. 57th Drive
Glendale, AZ 85301
(623) 242-6737
Cactus High School
6330 West Greenway Road
Glendale, AZ 85306-3204
(623) 412-5025
Glendale Community College
6000 West Olive Avenue Glendale
AZ 85302
(623) 845-3264
Website: www.gc.maricopa.edu/
Deer Valley High School
18424 North 51st Avenue
Glendale, AZ 85308-1499
(623) 845-4066
Providence Training Institute
9189 N. 59th Ave. #2,
Glendale AZ 85302
(602) 606-8879
Glendale is a city that's part of Maricopa County. You can find it just a few miles from Phoenix, Buckeye, Surprise, and El Mirage. It was established in the late 1900's; this previous desert wasteland has now become a beautiful city with a total area of 55.8 sq. miles. As of the census of 2010, the city's total population had reached up to 226,721 people, which also increases the demand for health care and its providers.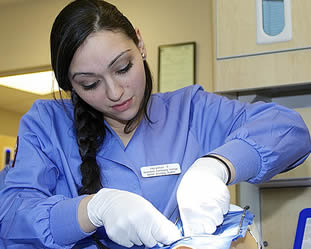 Training to become a nursing assistant is considered to be one of the best ways to enter the field of health. Compared to other careers such as nursing, you don't have to spend a lot of time and cash for training. Before you can handle the patients as a nursing assistant, you'll need to be equipped with the proper knowledge and skills.
You can get all you need by enrolling in a 120 hour CNA program that's approved by the state's Board of Nursing. Depending on the program you choose, it can take 3 to 4 months to complete your training. You'll be taught in different subjects such as infection control, medical terms, patients' rights, rehabilitation, medical ethics, direct patient care, as well as other essential nursing care skills and concepts.
After you complete your training, you'll be allowed to apply for the state exams. The exams are divided into a written test and a manual skills demonstration. Both tests are conducted on the same day with the help of Headmaster at an approved testing facility. The written portion can be replaced by an oral exam if the candidate requests it.  You will have to pass both tests within 24 months after completing your training to get into the Nurse Aide Registry and become a certified nursing assistant; which, according to the law, are the only ones who are allowed to work long-term in a certified nursing facility.
A certified nursing assistant from another state can transfer his or her certification to Arizona by applying for reciprocity. In order to qualify for this, the interested CNA must have an active certification and must meet any of the following:
–    Must be currently providing CNA care in an approved healthcare facility.
–    Has worked for a minimum of 160 hours in a certified long-term care center within the last 24 months.
–    Has completed an certified nursing assistant program and has passed the state exams within the last 2 years.
Interested nursing assistants can get the necessary endorsement application forms via http://www.azbn.gov/Documents/applications/App%20Packet%20Downloads/CNA%20Endorsement%20Packet.pdf. The forms will also contain other information regarding the process, as well as detailed instructions on what to do.
As soon as you become a certified nursing assistant, you need to find a job in an approved nursing facility. If you wish to keep your status as a certified nursing assistant, you must work as a paid CNA for at least 8 hours while under the supervision of a registered nurse.
To give you an idea where you can find a job in the city, here are some examples of excellent health care centers and providers you can find within Glendale: Arizona Asthma & Allergy Institute, Take Care Clinic at select Walgreens, Arrowhead Health Centers, Total Medical Care, Atlas Chiropractic Center, OUCH Urgent Care, and Center for Cognitive Enhancement. photo attribution: germannacommunitycollege