The certified nursing aide training schools in Lake Havasu City, Arizona that are currently open for enrollment can be found in detail on this page.  You can talk to a program representative by calling the number below each training school.
Lake Hills Inn
2781 Osborn Dr. Lake,
Lake Havasu City, AZ
(928) 505-5552
Regional Center for Border Health, Inc.
1947 McCullock Blvd #105,
Lake Havasu City, AZ 86403
(928) 680-1468
Mohave Community College
1977 W. Acoma Blvd,
Lake Havasu City, AZ 86403
(928) 505-3378
Those who wish to become a nursing aide in Lake Havasu must first meet the requirements of the state to get certified. According to the Nursing Home Reform Act, only a properly trained and certified nursing aide may work long-term in a certified health care facility in Arizona. Aspiring candidates must also be able to pass the national criminal background checks.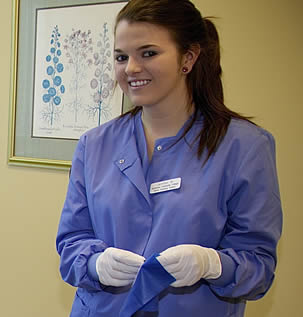 Enrolling in an approved CNA program is the first step in becoming a nursing aide. Candidates must learn how to properly take care of the patients before they work as full-time health care providers. Nursing aide training in the state takes 120 hours to complete. These hours are divided into both classroom lectures and supervised clinical practice. It can take a person 12 to 18 weeks of continuous training to complete a program.
Completing a CNA program is a requirement to qualify for the NNAAP exams. A person can skip this requirement if he or she was able to take up the Fundamentals of Nursing through a certified nursing school. These individuals will just have to show proof of their training or education in order to qualify for the exams.
The NNAAP exams were designed to test every candidate in their competency to perform the required care that is expected of qualified nursing aides. It is a two part exam, which consists of a 2 hour written test and a 35 minute skills demonstration exam. Candidates are required to pass both tests within 2 years after completing their training to get into the Nurse Aide Registry and become certified. If a candidate is unable to pass within 2 years after completing his or her training, then he/she must undergo retraining.
Once your name is on the Registry, you'll need to keep your record updated. You'll need to inform the registry immediately if you change your name, address, or social security number. Failure to inform them may jeopardize your status on the registry. You can update your record by going online to www.azbn.gov.
All CNAs in Arizona are required to renew their certifications every 2 years through the AZBN to maintain their eligibility to work in a certified nursing facility. Holders must work for at least 8 hours while under the supervision of a licensed nurse to qualify for re-certification. No CNA is allowed to continue working with an expired certification.
Lake Havasu City is a wonderful place to work as a nursing aide. The city is part of Mohave County in Arizona and has a total area of 43.1 sq. miles. According to the latest census, they now have a total population of about 52,527 people. Major roads that you may access to get to this city include State Route 95 and Interstates 40 and 10, which can easily lead you to nearby communities and cities.
You can meet the requirements for re-certification by working in any of these health care facilities: Take Care Clinic at select Walgreens, North Country Community Health Center, STD Test, Express, Register Marc T DO, ABC Therapy Counseling Center, Lake View Terrace Memory Care Residence, and Arizona Association for Health Care Quality. You can also find other health care centers and providers located within the city limits. photo attribution: germannacommunitycollege