The certified nursing assistant training programs in Sedona, Arizona are displayed on this page. The following schools have been approved by the Arizona State Board of Nursing and meet current certification requirements.
Kachina Point Healthcare & Rehab
505 Jacks Canyon Road
Sedona, AZ  86336
928-284-1000
Website: http://www.kachinapointrehab.com/
If you are looking for a way to start a career in the field of health, then look no further. Training to become a nursing assistant lets you enter the field without spending too much time and money in training.  Compared to other careers such as nursing, you can become a full-time nursing aide in a matter of 3 to 6 months.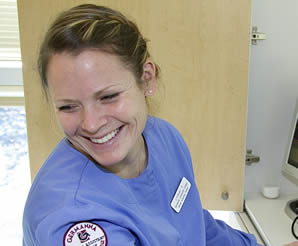 Completing a training program is the first requirements that must be taken care of. You need to look for a suitable training program and enroll in it. These programs will teach you the necessary knowledge and skills you will use to take care of the patients. When selecting programs, be sure to choose one that's approved by the Arizona State Board of Nursing. This will help ensure that you will be allowed to proceed to the next step.
When you enroll in a program, you will be spending most of your time in the classroom for theoretical instructions and in the clinical area for your supervised practical skills training. Both theory and practical training are taught at the same time. Training programs are required to last a minimum of 120 hours, which might take 12 to 24 weeks to complete depending on the program's schedule. As a student, you will learn about basic nursing skills and important topics such as infection control, medical terms, communication skills, safety and emergency procedures, human anatomy, vital signs, and many more.
After you complete your training, the next step is to take the NNAAP exams. Before you can take it, you'll need to submit your application to the Headmaster testing company in order to schedule for an exam date. You can download and print the application forms by visiting their website at www.hdmaster.com. The forms will contain detailed instructions on how to apply, but if you still need help, you can call (602) 771-7800.
There are two types of exams that make up the NNAAP exams. Candidates are required to pass both types in order to get into the Nurse Aide Registry. The first part can either be a written or oral exam, while the second is a skills examination. All the topics that were tackled in the training program will be included in the exams. All candidates are given 90 minutes to answer all the multiple-choice questions on the first part, and 35 minutes to perform 4 randomly selected nursing procedures.
If you pass both tests, then you may apply to get into the Nurse Aide Registry; but before you can get certified, you must pass the criminal background checks. Once you get certified, you'll be allowed to work in any nursing facility within the state for a two year period. The exam results are normally released within 3 to 5 days after your exam date. You can visit Headmaster's website to check the results on the day that they are released.
If you wish to continue your eligibility, you need to renew your certification through the state's Board of Nursing. The AZBN requires its nursing aides to work, for compensation, for at least 8 hours while under the supervision of a registered nurse. No CNA is allowed to continue working once his or her certification has expired. You go to www.azbn.gov. to find out more about this.
This city lies near the county line between Coconino and Yavapai County. It is located i n the northern part of Verde Valley. As of the 2010 census, they now have a total population of approximately 10,031 people. The main attraction of this city is its vast array of red sandstones formations that you may find there. These formations are called the Red Rocks of Sedona. This city was named after Sedona Arabelle Miller Schnebly, who was the wife of the first postmaster.
Also in the the city are a vast array of health care centers that you may want to locate. These centers/facilities include Digestive Wellness Center, Medical Clinic of Oak Creek, Inc. & Sedona Hyperbarics & Wound Care LLC, Brava Medical Group, Sedona Urgent Care, Massagematters of Sedona, and Verde Valley Medical Center-Sedona Campus. photo attribution: germannacommunitycollege