The certified nursing assistant schools that are available for enrollment in Sierra Vista, Arizona are available on this page. If you want to find out more about the cost of the program and the duration of training, you can call the facility or visit their address.
Horizon Health Care Institute
555 East Wilcox Drive
Sierra Vista, AZ 85635
520-439-9551
Website: http://www.horizonhealthcareinstitute.com/
Cochise College – Sierra Vista Campus
901 North Colombo Avenue,
Sierra Vista, AZ
520-515-0500
Website: http://www.cochise.edu/
With the current demand for health care workers in Arizona, it is not that hard for people who are already in the line of work to find jobs. Because of such high demands, more and more people are now trying to become certified nursing assistants. Since nursing assistants are entry-level professionals, you won't have to invest that much time and money for training.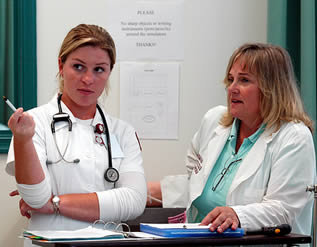 The first step to become a nursing assistant is to enroll in a training course that is approved by the Arizona Board of Nursing. The AZBN requires all training programs to last at least 120 hours and to consist of both theory and supervised clinical practice. You can find these programs offered through nursing homes, hospitals, community colleges, private training institutions and other long-term care facilities. Since there is no set age limit for those who wish become CNAs, even high schools are now offering their students nursing assistant training.
Training programs will equip the students with the proper skills and knowledge that they will use to take care of the patients.  They will learn about emergency care, medical and surgical asepsis, proper communication, personal care, roles and responsibilities, patients' rights and independence, and other essential nursing skills and concepts.
After completing an approved program, aspiring candidates will be allowed to apply for the exams, which are conducted by Headmaster. Candidates may download and print the forms from www.hdmaster.com. Applicants must submit the forms along with proof of education and training, and the payment for the exams. The forms that may be downloaded from the site will contain the information where to submit them. If you do not receive a confirmation notice from Headmaster within 5 business days after submitting the forms, please call (800) 393-8664.
The CNA examination is composed of a written or oral exam and a manual skills demonstration. Candidates must pass both tests in order to gain entry into the Nurse Aide Registry and get certified. In addition, they must pass both tests within 24 months after completing training. Unlike most states, candidates taking in Arizona are allowed to retake the exams as many times as needed within the two year period. If a candidate fails to pass within the given time limit, the candidate will have to undergo retraining.
To help you get a better understanding of what the exam is all about, you can go to the Headmaster's official website and download a copy of the Candidate Handbook. The handbook will contain the general topics that will be included in the first part of the exams, and it will also include the complete skills list of all the possible skills/procedure that may be requested to be performed.
This city is a part of Cochise County. As of 2010 their total population has reached up to 43,888. The city is also a part of the Sierra Vista-Douglas Micropolitan Area. It is a few miles from Tucson. You can get to the city with the use of Interstate 10 and State Highway 90. This city is surrounded by different mountain ranges such as Huachuca Mountains, Dragoon Mountains, Whetstone Mountains, and Mule Mountains. It has a total area of 153.4 sq miles and a population density of 273.2/sq mile.
The Sierra Vista Regional Health Center (SVRHC) and the Raymond W. Bliss Army Health Center are the main health centers that take care of the communities. Other health care centers in the area include Sonoita Family Health, Tombstone Family Health, Carter Imaging Center, Sonoita Family Health, Sierra Vista Regional Health Center, and Arizona Family Care Associates Inc. photo attribution: germannacommunitycollege