The schools that are enrolling for nursing assistant classes in Yuma, Arizona are shown to you in the list below. These courses meet state requirements for certification training and have been licensed by the Arizona State Board of Nursing.
Regional Center for Border Health, Inc.
3850 W 16th Street,
Yuma, AZ 85364
(928) 627-9222
Yuma Nursing Facility
1850 West 25th St.
Yuma, AZ  85364
(928) 726-6700
Website: http://www.yumanursingcenter.com/
Arizona Western College
2020 S. Avenue 8e.
Yuma, AZ 85365
(928) 344-7554
Website: https://www.azwestern.edu/
Kofa High School
3100 South Avenue A
Yuma, AZ 85364
(928) 502-5400
Before one can start working as a nursing aide in Arizona, one must first meet several different requirements; most of them however, can be easily met. One of the most important requirements that you need to meet is the completion of a state-approved training program. You need to learn how to take care of the patients properly and how to meet their individual needs.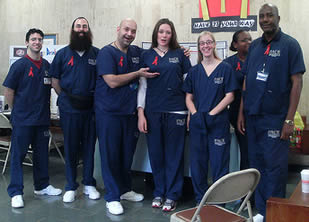 One option of this is to enroll in a CNA training program. The program you choose must be approved by the Arizona Board of Nursing (AZBN). These programs are required to offer no less than 120 hours of training. Once you are enrolled, you will spend most of your time in the classroom for theoretical lectures and in the clinical area for your supervised hands-on training. You will learn about important concepts like infection control, mental rehabilitation, communication and interpersonal skills, roles and responsibilities of a CNA, right and independence of the patients and many more. You will also learn basic nursing procedures and skills such as vital signs taking, safety and emergency care, feeding through NGTs, performing bed baths, and catheter care.
Once you complete your training, you will have 24 months to schedule, take, and pass the CNA exams. These exams consist of a written/oral test and a manual skills demonstration. You must pass both tests in order to get into the state's Nurse Aide Registry and get certified.  The state will allow you to retake as many times as possible within the 24 month period; but if you still fail to pass, then you will have to complete another training program to reapply once again.
A person who has received at least 100 hours of military healthcare training may also qualify for the tests. They can either have trained as medics or corpsmen. Their training will allow them to apply directly for the exams without the need to complete a CNA program. These applicants should call the AZBN at (602) 771-7888 or visit www.azbn.gov to find out if they are eligible.
A person can only get certified if his or her name is on the state's Nurse Aide Registry. Another way of entering the Arizona Registry is by applying as an out-of-state nursing assistant. This process is commonly referred to as reciprocity. This certification route is only available for individuals who are already certified as nursing assistants in other states. This lets them get into the Nurse Aide Registry without the need for further training or testing. CNAs who are interested in applying may get the application forms via this link: http://www.azbn.gov/Documents/applications/App%20Packet%20Downloads/CNA%20Endorsement%20Packet.pdf
Yuma is the county seat of Yuma County. You can find this city in the southwestern part of the state. As of the latest census, their population has now reached up to 93,064 people. This city is also part of the Arizona Metropolitan Statistical Area. Yuma has a total area of 106.7 sq miles and a population density of 726.8/sq miles.
The Yuma Regional Medical Center is the third biggest employer in the city with more than 2,000 employees. Other health care centers that you may find in the city include Planned Parenthood, Yuma Physicians Medical Clinic, Foothills Walk-In Medical Care & Urgent Care, Northside Medical Clinic Walk-In, PrimeCare Urgent Care Facility, Heuser Chiropractic, Prileo Home Care, PrimeCare Urgent Care, Yuma Regional Outpatient Surgical Center and Blue Horizons Clinic. photo attribution: mackarus