The certified nursing assistant training courses located in Kingman, Arizona that are currently open as of the moment are listed in detail below. If you have any questions about how to receive your certification credentials, or if you want to know more about their training, just call the number provided below.
The Lingenfelter Center
1099 Sunrise Avenue,
Kingman, AZ 86401-6825
928-718-4852
Lee Williams High School
400 Grandview Ave.
Kingman, AZ 86401
(928) 753-6216
The Garden Rehab & Care
3131 West Ave.
Kingman, AZ 86401
(928) 718-0718
Mohave Community College
1971 Jagerson Avenue,
Kingman, AZ  86401-1299
928-757-4331
Website: www.mohave.edu/
One of the best ways to become a health care provider is to become a nursing assistant; and Kingman, Arizona is an excellent place to start your training and career as one.  Kingman is a city that is located within the Mohave Country, which is also its current county seat. It has a total area of 33 sq. miles; and it can be found just a few miles east from Bullhead City. As of the latest census, its total population had reached up to 28,068. Since this city is closely surrounded by other communities, you can easily add their population to Kingman's, which would bring the total population around 66,000.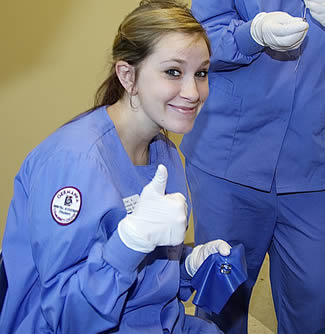 Before you can start working as a nursing assistant in Kingman, or any other city in Arizona, you need to get a CNA certificate. The only way for you to get certified is to gain entry into the Nurse Aide Registry. The only way for you to get into the NAR is by challenging the National Nurse Aide Assessment Program Exams or NNAAP exams.
This is a two part examination, which consists of a written exam and a practical skills test. The written exam can be replaced by an oral examination if the candidate requests it. You can apply for the NNAAP exams if you meet any of the following:
–    Pass a nurse aide training program that's approved by the Arizona Board of Nursing (AZBN).
–    Provide a copy of completing a 120 hour nursing assistant program that's approved by another state.
–    Show proof of completing a 75 hour nursing assistant program that's certified by another state and proof of doing 45 hours of providing nursing care services as a nursing assistant.
–    Provide proof of graduation from an approved RN or LPN program.
Candidates will have 24 months after completing their training to pass both tests. Each candidate may retake the exams as many times as needed within those 24 months. Once a candidate passes both tests, then his name will be entered into the Nurse Aide Registry and will become a certified nursing assistant.
Another way of getting into the Arizona NAR is by applying for reciprocity. The process of reciprocity, however, is only offered to individuals who are already certified in another state as nursing assistants. In order to qualify, applicants must provide the same requirements as those who are applying for a certification through testing (You can learn the requirements by following this link: http://www.azbn.gov/Documents/applications/App%20Packet%20Downloads/CNA%20Endorsement%20Packet.pdf). In addition, they must also have a valid certification upon application and should meet at least one of the following:
–    Is currently providing nursing or nursing-related care as a CNA in a certified health care institution.
–    Has worked as a certified nursing assistant for at least 160 hours within the 24 months in a hospital, nursing home, or other similar health care settings.
–    Has met the federal and state's training and testing requirements within the last 2 years.
CNA certifications in Arizona aren't permanent. If you wish to maintain your status as a certified nursing assistant, you must be able to provide proof that you were able to work for at least 8 hours as a paid CNA, while under the supervision of a licensed nurse or licensed practical nurse. If you wish to continue working in Kingman, then you should check the following health care facilities: Take Care Clinic at select Walgreens, Arizona Kidney & Hypertension Centers, Mohave Surgical Specialists, Family Practice Resident Clinic, Family Medicine, Resident Clinic, Mohave Mental Health Clinic Inc., and Fastrax Urgent Care Centers. photo attribution: germannacommunitycollege