The nursing assistant training classes found in Prescott, Arizona that are shown to you in the list are recognized by the state. Call one of the programs listed to get the most recent instructions on how you can enroll.
Arizona Pioneer's Home
300 South McCormick Street,
Prescott, AZ 86303
928-445-2181
Good Samaritan Society
1030 Scott Dr.,
Prescott, AZ 86301
928-778-245
Mountain View Manor
1045 Sandretto Dr.,
Prescott, AZ 86305
928-778-4837
Yavapai Community College
1100 East Sheldon Street
Prescott, AZ
928-776-2247
Website: https://www.yc.edu/v4content/campuses-and-sites/prescott/
The Meadows of Northern Arizona
1040 whipple St.
Prescott Arizona 86305
928-778-3570
[They are a state certified CNA and Caregiver training center]
Nursing assistance has become one of the most popular ways to enter the field of medicine. Since the increase in demand for entry-level health care providers, more and more people are now asking questions regarding how to become a CNA in Arizona. Compared to other careers, training to become a nursing assistant is much faster and more affordable.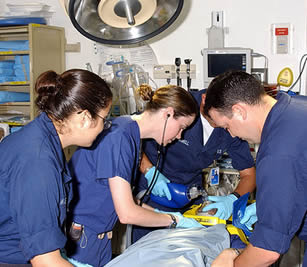 The first step in becoming a nursing assistant is to look for a suitable training program to enroll in. You'll need to equip yourself with the knowledge and skills needed to meet the individual needs of each patient. This can be achieved by enrolling in a CNA class that's approved by the state's Board of Nursing. You can find suitable programs offered by the following institutions and schools:
–    Hospitals
–    Nursing Homes
–    American Red Cross
–    High Schools
–    Assisted Living Centers
–    Community Colleges
–    Technical Schools
–    Private Training Centers
–    Vocational Colleges
Each training facility has its own set of requirements to be accepted. However, there are some common requirements such as:
•     Age: no specific age requirement
•    Education: must at least know how to read and write
•    English: must be able to understand and speak English
•    Health: is able to pass physical and medical examinations and is free of communicable diseases
AZBN approved programs consist of a minimum of 120 hours. When you enroll, you'll be spending most of your time in the classroom for your theoretical instructions and in the clinical area for your supervised clinical practice. Both theory and hands-on training are taught at the same time. Depending on the program you choose, it can take you 12 to 24 weeks to complete your training.
After completing your training, you will be allowed to apply for the license exams. These exams are conducted with the assistance of Headmaster. The license exams have two parts, which consists of a written and manual skills exam. Applicants will need to pass both portions before they can apply for the Nurse Aide Registry.
A person may only work for more than 120 days as a nursing assistant if his name is on the Nurse Aide Registry. Employers will always check the names of their applicants if they are on the registry before hiring them. If you wish to speak to an official representative regarding your status on the NAR, you can call (302) 577-6666 or visit www.azbn.gov.
Applying for reciprocity is another way of gaining entry into the NAR. This process is only for nursing assistants who are already certified in another state. They can transfer their certification to Arizona without the need for further testing or training. You can find out more about this process by following this link: http://www.azbn.gov/Documents/applications/App%20Packet%20Downloads/CNA%20Endorsement%20Packet.pdf
Prescott is a city that is in Yavapai County in Arizona. According to the latest census, they now have a total population of over 39,843. This is also the county seat for the said county. This city was once the capital of Arizona Territory back in 1864. It has a total area of 41.5 sq miles and a population density of 915.6/sq mile. Major roads that you can find in the area include State Route 69 and State Route 89.
Examples of health care centres that you can find in the area include Center For Physical Excellence, Edie Morgan Women's Health Nurse Practitioner, Tri City Surgery Center, Take Care Clinic at select Walgreens, Ucr Urgent Care, Planned Parenthood, YRMC Physician Care Internal Medicine, Decision Point Center, and Northern Arizona Tumor Institute. photo attribution: militaryhealth