The CNA training programs found in Phoenix, Arizona that are currently open for enrollment are all provided for you in detail on this page. These programs have all been approved and certified by the Arizona Board of Nursing. If you wish to know more about their training, call the number provided below.
Beatitudes Campus
1616 West Glendale Ave.,
Phoenix, AZ 85021
602-995-6100
Website: www.beatitudescampus.org/
Grace Healthcare of Phoenix
4202 North 20th Ave.,
Phoenix, AZ
(602) 264-3824
Life Care Center at South Mountain – Phoenix
8008 South Jesse Owens Parkway,
Phoenix, AZ 85040
(602) 243-2780
Accord Healthcare Institute
6049 N 43rd Ave
Phoenix, AZ
(602) 714-3439
Cactus Wren Training Program, LLC
10640 N 28th Dr # C107
Phoenix, AZ 85029
(602) 741-5526
Desert Winds Training Institute
1301 E. Washington St. Suite 100
Phoenix, AZ
(602)240-5900
LAM and Associates School of Nursing Assistants
N. Central, 4th Floor Suite 406
Phoenix, AZ
(602) 290-3162
Providence Training Institute
4810 N Black Canyon Hwy Suite 10
Phoenix, AZ
(602) 606-8879
Star Canyon School of Nursing
8900 North Central Avenue Ste.
Phoenix, AZ 85020
(602) 943-1337
Website: www.starcanyonschoolofnursing.com/
Trinity Assisted Care Training Program
6618 West Highland Avenue
Phoenix, AZ 8503
(623) 806-0744
Brookline College
5441 E. 22nd St
Phoenix, AZ 875711
(602) 589-1313
Website: brooklinecollege.edu/
College America Phoenix
9801 N Metro Pkwy E
Phoenix, AZ
(602) 589-9860
Website: www.collegeamerica.edu/phoenix
GateWay Community College
108 North 40th Street
Phoenix, AZ 85034
(602) 286-8531
Website: www.gatewaycc.edu/
Paradise Valley Community College
18401 N. 32nd Street
Phoenix, AZ
(602) 787-7284
Website: www.pvc.maricopa.edu/
Phoenix College
1202 W. Thomas Road
Phoenix, AZ 85013
(602) 787-7284
Website: www.phoenixcollege.edu/
Phoenix Job Corps Center
518 South 3rd Street
Phoenix, AZ 85004
(602) 254-5921
Website: phoenix.jobcorps.gov/home.aspx
Alhambra High School
3839 West Camelback Road,
Phoenix, AZ 85019
(602) 764-6022
Paradise Valley High School
3950 East Bell Road
Phoenix, AZ 85032
(602) 867-5554
Thunderbird High School
1750 West Thunderbird Road
Phoenix, AZ
(623) 915-8900
Benner Health Certified Nursing Assistant Program
1441 N. 12th Street
Phoenix, AZ 85006
(480) 684-6112
[Offered to Banner Health Employees Only]
Optimus Medical Prep
5320 N. 16th St.
Phoenix, AZ 85016-3220
(480) 452-5106
Maricopa Skills Center
1245 E. Buckeye Rd.
Phoenix, AZ 85304
(602) 238-4367
Moon Valley High School
3625 W. Cactus Rd.
Phoenix, AZ 85029
(602) 616-1789
Metro Tech High School
1900 W. Thomas Rd.
Phoenix, AZ 85015
(602) 764-8000
To work as a nursing assistant in the State of Arizona, one must be on the Arizona Nurse Aide Registry. If you had never been a CNA before, then the first step that you need to take is to enroll in a class that's approved by the AZBN. You may find these programs offered through hospitals, nursing homes, community colleges, technical and vocational school, government organizations, and high schools all across the state.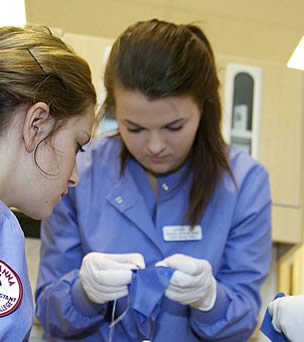 All programs are closely monitored by the AZBN to make sure that they offer their students proper training and education. Programs are required by the state to offer no less than 120 hours of instructions. Their training curriculum must consist of both theory and hands-on training. Depending on a program's schedule, you can complete your training within 3 to 6 months.
As a nursing assistant student, you will be taught in the different nursing concepts and skills like emergency procedures, infection control, direct patient care, patient's rights, mental health, proper communication, as well as the basic nursing skills like taking of vital signs, offering and removing bedpans, doing bed baths, passive ROM exercises, as well as assisting in ambulation.
During the entire training period, students will be handled by a CNA instructor. The increasing number of people who wish to train and become nursing assistants has generated new jobs for registered nurses. If you are a licensed nurse who wants to take some time off from your usual work, then why not become a nursing assistant instructor?
To be an instructor, you must have an active license with a good record; you must have at least 2 years of nursing experiences where one of the most recent years was spent working in a long-term care center; and you must also have some experience in supervising nursing assistants (students) or in training adults. You can get more information about this by visiting www.azbn.gov.
After you complete your training, the next step is to challenge the CNA exams. These exams are divided into two parts, which consists of a multiple-choice knowledge test and a manual skills exam. You can choose to take the knowledge exam as a written or oral test.
The exam results are usually released 3 to 5 days after you take the exams. The results for WebETestings are immediately released on the same day as the exams. If you wish to check your score report, you can immediately see it by visiting www.hdmaster.com. You'll have 24 months after completing your training to get listed on the NAR and get certified. If you fail to pass within the time, you will have to complete another training period.
The final step tasks that you need to complete after passing the CNA exams is to pass the criminal background checks. The state won't allow you to get certified if you have any felony convictions and have not received an absolute discharge from the sentence in a felony conviction. If you do get absolute discharge, you must wait for at least 5 years before you submit your application.
The criminal background checks are released by the FBI around 4 –6 months. You won't get certified until the results come back. Once you get certified, you'll be allowed to work in Phoenix.  Phoenix is the current county seat of Maricopa County. It is also the capital of the state. With a total population of 1,445,632 people and a total area of approximately 517.948 sq. miles. It is currently ranked as the 6th most populous city in the United States.
With such as high population number, you won't be surprised to find numerous health care centers and facilities located within the city limits. Examples of such include Life Choices Women's Clinic, Advanced Urgent Care, Regent Medical Urgent Care, Planned Parenthood, ACCU CARE URGENT CARE – Medical Center, Arcadia Urgent Care, Centro de salud familiar and Regent Medical. photo attribution: germannacommunitycollege