The certified nursing assistant classes found in Page, Arizona that are shown to you in detail in the list below are all the available classes being offered. To learn more about these Arizona State Board of Nursing licensed course you can contact them using the phone number provided.
Coconino Community College
475 S. Lake Powell Blvd, P.O. Box 728,
Page, AZ 86040
(928) 645-3987
Website: http://www.coconino.edu/pr/locations/Pages/PageLakePowell.aspx
Page High School
434 Lake Powell Blvd.
Page, AZ, 86040
(928) 608-4138
Getting a CNA license is a requirement to work as a nursing aide in the State of Arizona. This license will allow an aspiring nursing aide to work in any certified nursing facility within the state; and even in another one by applying for endorsement. To get a license, one must successfully pass a certified training course, clear the national background checks, and pass the exams.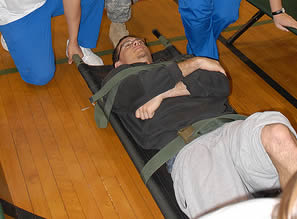 CNA training courses can be found throughout the state. They care closely monitored by the Arizona Board of Nursing to ensure that they'll offer the students proper education and training. Training facilities that are offering nursing aide training courses are required to offer no less than 120 hours of training. Training hours should be divided into classroom instructions and supervised clinical practice. Completing an approved training program, which can take 3 to 4 months, is a requirement to establish eligibility for the CNA exams.
A nursing aide candidate who completed a 120 hour CNA program that's approved by another state can also apply for the tests conducted in Arizona. The same also applies for persons who completed a 75 hour course and had worked for a minimum of 45 hours as a nursing aide can also apply. Nursing students/graduates who took up the Fundamentals of Nursing who wish to take the exams will need to provide proof of their education and training.
The CNA exams are divided into two parts, which consist of a written test and a practical skills evaluation. Candidates have 2 years after completing their training to pass both tests. If a candidate fails to pass both exams within the 2 year deadline, then he or she will have to undergo another training program.
The exams are conducted with the help of Headmaster at a approved testing facility. If you wish to know more about the exams, you can visit their website at www.hdmaster.com and download a copy of the Candidate Handbook. Aside from detailed information about the exam, the handbook will also contain sample tests and necessary forms.
Once you pass both tests, you'll be allowed to submit your application for the Nurse Aide Registry to the Arizona Board of Nursing. They will then send you a fingerprint card, which you must complete for the criminal background checks. Once the results for the background checks are sent back by the FBI, (which can take 4 to 6 months) your name will then be entered on the registry; and you will be allowed to work in Page, Arizona.
Page is a city that is situated in Coconino County. It is a few miles from the Glen Canyon Dam and Lake Powell. According to the census of 2010, the total population of the city is approximately 7,247 people. It has a total area of 16.6 sq miles and a population density of 436.5/sq mile.
While your CNA certificate is valid, you'll be allowed to work in any health care facility within the state. Examples of Health care centers that you can find in the area include Take Care Clinic at select Walgreens (866) 825-3227, Agassiz Healthcare Supply (866) 274-3983, Community Behavioral Health Services – Crisis Line (928) 645-8180, Care for You Family (928) 660-1799, Community Behavioral Health Services (928) 645-2966, and Navajo Nation Department of Behavioral Health Services Dbhs Administrative – Dbhs-Page (928) 645-1213. photo attribution: mdng