The nurse aide school courses that are located in Cottonwood, Arizona are all the courses that are available as of the making of this page. For more information about how you can get started with a certification program, please call the number provided below.
Mingus Union High School
1801 East Fir Street,
Cottonwood, AZ
(928) 63407531
Haven of Cottonwood
197 S. Willard St,
Cottonwood, AZ 86326
(928) 634-5548
You cannot work as a nursing assistant in if you do not have a license that's issued by the Arizona Nurse Aide Registry. In order to get one, you'll have to take the license exams right after you complete a state-approved CNA course.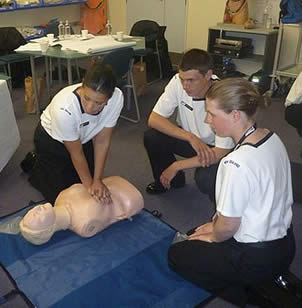 Courses offered in Arizona consist of 120 hours of instructions. The hours are divided into both theoretical course work and supervised clinical practice. Students are handled by trained CNA instructors; they are not allowed to perform any procedure without the knowledge or presence of their instructor. Depending on the course you choose, it can take you 3 to 4 months to complete your training. You can find a suitable program offered through any of the following:
–    Hospitals
–    Nursing Homes
–    High Schools
–    Community Colleges
–    Vocational Schools
–    Technical Schools
–    Assisted Living Centers
–    Rehabilitation Centers
Once you complete your training, you'll need to submit your application to Headmaster to schedule an exam date for the license exams. The exam consists of a knowledge test and a manual skills test, which are both taken on the same day. Candidates are required to pass both tests within 24 months after completing their training. You can get the application forms through this link: http://www.azbn.gov/Documents/applications/App%20Packet%20Downloads/CNA%20Exam%20Packet.pdf if your instructor doesn't provide you with them.
After you pass, you'll need to submit another copy of the application forms, this time to the AZBN in order to be entered into the Nurse Aide Registry. When you submit the forms to the AZBN, you should include a fee of $50 if you want to get a document stating that you are a licensed CNA.
Once you're on the NAR, you'll be allowed to work in any part of the state. If you proceed to train in Cottonwood, we suggest that you get to know the city a little better. This is a city that is a part of Yavapai County. As of the latest census, their total population has reached up to 11,265. It has a total area of 10.7 sq miles, where all of it is land. Its population density is 860.3/sq mile.
You can find within the city limits, numerous health care facilities and providers you can work in, such as Charles J Rolle MD, Family Health Care Providers, Arthur, James, MD, Joachim Robert H MD Ltd, Cottonwood Internal Medicine, Cottonwood Dermatology, Hongyok, USA, P. A. -C, Verde Valley Orthopedics, Verde Valley Urgent Care & Occupational Medicine, Verde Valley Guidance Clinic Inc., and Cardiac Care. photo attribution: nznavy