The state licensed CNA classes in New Haven, Connecticut that are shown on this page are all the programs that are open for enrollment as of the moment.
Adult Education Center
400 Canner Street,
New Haven, CT 06511
(203) 946-6972
American Red Cross South Central CT
703 Whitney Ave.,
New Haven, CT 06511
(203) 787-6721
Care Training Center LLC
142 Temple Street,
New Haven, CT 06510
(203) 782-0055
Clinical Care Initiative
691 Dixwell Ave.,
New Haven, CT 06511
( 860) 673-2521
Hill Regional Career Magnet High School
140 Legion Ave.,
New Haven, CT 06519
(203) 946-8400
Hospital of St. Raphael
1450 Chapel Street,
New Haven, CT 06511
(203) 789-3772
New Haven Adult Education Center
580 Ella Grasso Blvd.,
New Haven, CT 06519
203-492-0213
Jewish Home for the Aged
169 Davenport Ave,
New Haven, CT 06519
(203) 789-1650
New Haven Professional School
200 Orchard Street,
New Haven, CT 06511
(203) 562-3399
Northeast Medical Institute- New Haven Campus
270 Amity Road Suite 131
Woodbridge, CT 06525
(203) 391-6766
Sage Services, Inc.
703 Whitney Ave.,
New Haven, CT 06511
(203) 777-7401
Wilbur L. Cross High School
181 Mitchell Drive,
New Haven, CT 06511
(203) 946-5449
Completing a nursing assistant class that is approved by the state is one of the first requirements before you can work legally as a nursing assistant. Before you enroll you should make sure that the course is approved by the state so that you can apply for the license exams afterwards. You can find on this page some of the approved courses found on this city. According to the recent list of the Department of Public Health, there are around 155 certified courses located all over the state.  You also have the option of enrolling in other nursing courses since they are still able to apply for the license exams directly after their training.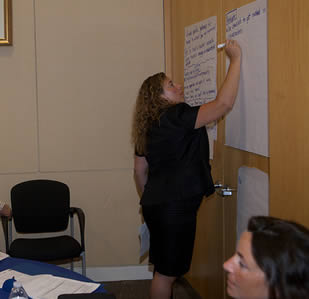 During your certification instruction you must have at least 100 hours' worth of lectures on the basics and at least 16 hours of clinical duty. Training programs must include all the basic nursing skills that are needed for you to take care of the patients. As a nursing assistant student, you will be taught in the different concepts on the Fundamentals of Nursing that were identified by both the federal and the state. Examples of such concepts include different medical terms, infection control, therapeutic communication, mental health, rehabilitation, and resident's right and independence. You will also be trained in 25 different competency skills, which will be tested during the license exams.
The license exams for the state of Connecticut are handled by Prometric. All applications will be forwarded to them. Their exams are composed of a two parts, a written and a skills demonstration exam. In order to get your name entered in the state's Nurse Aide Registry, you must pass all the exams. For more information about the exams, you can visit www.prometric.com, or call them at 866-499-7485.
This city is a part of New Haven County. It is on the New Haven Harbor which is located on the northern shore of Long Island Sound. This city is considered as the 2nd-largest city if the state and ranks 6th in New England. The city is sometimes called as The Elm City. It is a part of the Greater New Haven metropolitan area. Its total population during the last census was around 129,779. Its total area is about 20.31 sq miles.
Health care providers whose services that you can avail include Mental Health Resource Center, CS -Hill Health Corporation, Paradigm Healthcare, Institute for Health Care Communications, West Rock Health Care Facility, Temple Eye Physicians, South Central Behavioral Health Network, Dixwell Health Center, Yale Medical Group, Physician's Cosmetic Skin & Hair Center, and many more. photo attribution: departmentofed