The nurse aide training facilities in Brookfield, Connecticut that are available are listed in detail below. Included in the list are only the programs that have met state requirements and have been approved by the Department of Public Health. For more information, feel free to call the number provided below.
Brookfield High School
45 Long Meadow Road,
Brookfield, CT 06804
(203) 775-4583
Med-Care Training
304 Federal Road,
Brookfield, CT 06804
(203) 775-5699
Before you can handle any patient as a nursing assistant, you must first receive the proper training and education. According to the rules of this state, all those who wish to become a nursing assistant must complete a state certified training program. After they complete their training, they must then pass the license exams and get their name entered in the state's Nurse Aide Registry. Only then can they be issued a license from the Department of Public Health.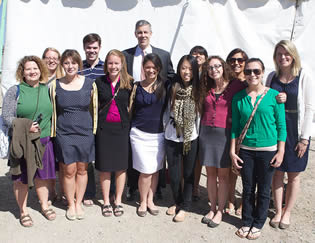 As a nursing assistant student, you will be spending your time in both lectures and skills training, as well as hours in the clinical area. To complete a training program, you must have at least 100 hours of theoretical lessons and at least 16 hours of skills training before you can be exposed to the area. You will need to learn about infection control, resident's rights, resident's independence, and the different safety and emergency procedures. You will also be trained in 25 basic nursing care procedures.  After completion you can then schedule a time to take the license exam to become a certified to work.
Nurse aides from other states are welcome to work in Connecticut. The state offers will offer reciprocity to those who still have active license status. When applying, they will need to submit a copy of their certification and have a good relationship with their state. Having records such as neglect or patient abuse has great effects on their applications.
This is a town that can be found in the northern part of Fairfield County. It was founded back in 1710 by John Muirwood and several others. It was also once called as Newbury. According to the census of 2010, their total population had reached up to a total of 16,452 people. The total area of this town is approximately 20.4 sq miles, where 0.6 square miles of it is water. Its population density is estimated to be 810/sq mile.
Examples of health care providers and facilities that you can find serving this town are Siemens Healthcare Diagnostics, Lotus Flower Acupuncture Center, Urgent Care of Brookfield, Landmark Healthcare, Pros Medical Services, Brookfield Family Medicine, New Milford Health Care Complex At Brookfiel, Brookfield Preventive Medicine LLC, and many more. photo attribution: departmentofed