The nursing assistant training in Willimantic, Connecticut that is available for enrollment is listed here. Included in the list are the programs that are approved for enrollment by the Department of Public Health.
Haven Health Care Center
595 Valley Street,
Willimantic, CT 06226
(860) 423-2597
Quinebaug Valley Community Tech College
729 Main Street,
Willimantic, CT 06226
(860) 774-1133
http://www.qvcc.commnet.edu/
Windham Regional Vocational Tech School
210 Birch Street,
Willimantic, CT 06226
(860) 456-3879
The first step in becoming a CNA is enrolling and completing a training course that is approved by the state. If you complete your training, you will be eligible to apply for the license exams. For you to complete a course, you must have at least 100 hours of training. Your training will be composed of classroom lectures and hands-on skills training. You will also be exposed to the clinical area to gain knowledge and experience of what it is really like. Most courses can be finished within 6 months of continuous training, depending on your course's schedules.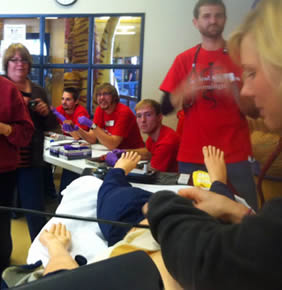 When you apply, you must send a copy of the completed application form along with the needed paperwork. The application form can be downloaded at www.prometric.com. As for the needed documents, you will need to send a copy of your transcripts, ID photo, fingerprint cards, and payment for the fees. Aside from those mentioned, according to the state rules, you will also be required to submit the results for your background checks for criminal records. These checks are done to protect the interest of the residents/patients that you will eventually take care of. Having records involving drugs and violence can greatly affect your application. Background checks are also required for those nurse aides who are applying for reciprocity.
This census-designated place was a former city that is situated in the town of Windham. Willimantic was sometimes called Thread City or Frog City. According to the 2010 census, their total population was at 17,737 people. It has a total area of about 4.5 sq miles and a population density of 3,600/sq mile.
Health care centers that you can avail in the Willimantic are Med-East Medical Walk In Center, Mansfield Obstetrics & Gynecology Associates, Generations Family Health Center, Interim HealthCare, United Services – Addiction Recovery Services, and Advanced Behavioral Health. photo attribution: iubmedicalsciences