The state licensed certified nursing assistant classes in Bridgeport, Connecticut that are open for enrollment are shown here. Call one of the phone numbers for a school listed below to get answer to details such as program enrollment, course requirements, and the cost of instruction.
Housatonic Community College
900 Lafayette Boulevard,
Bridgeport, CT 06604
(203) 332-5057 or (203) 332-5263
American Red Cross
60 Lafayette Street, Room 402,
Bridgeport, CT 06604
(203) 338-0951
Bridgeport Hospital
267 Grant Street,
Bridgeport, CT 06610
(203) 384-3000
Bullard-Haven Regional Vocational Technical School
500 Palisades Ave.,
Bridgeport, CT  06610
(203) 579-6333
Danae's Training Center
49 Cannon Street,
Bridgeport, CT 06604
(203) 865-0000
Med-Life Institute
4490 Main Street,
Bridgeport, CT 06606
(203) 371-4678
Northbridge Health Care High School
2875 Main Street,
Bridgeport, CT 06606
(203) 336-0232
Precise Care, LLC.
2451 North Ave.,
Bridgeport, CT 06604
(203) 336-1014
St. Vincent College of Nursing
2800 Main Street,
Bridgeport, CT 06606
(203) 576-5235
Stat Services, Inc.
Connecticut Ave., Suite 5102,
Bridgeport, CT 06607
(203) 366-1140
Training Direct, LLC.
3851 Main Street,
Bridgeport, CT 06606
(203) 372-884
Warren Harding High School
1734 Central Ave.,
Bridgeport, CT 06610
(203) 576-733
According to the rules of the state of Connecticut, anyone who is aspiring to become a nursing assistant should undergo the proper education and training. Before they are allowed to work in any healthcare setting, they must take and pass the license exams to get their name entered in the state's Nurse Aide Registry. This is done in order to improve the standard of care for all healthcare facilities and their healthcare providers.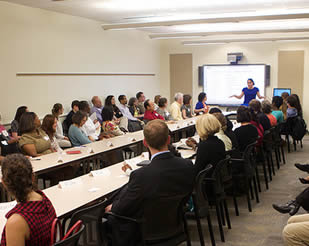 The CNA training program that students must enroll in should be approved by the state so that they will become eligible for the license exams. There are currently 155 training programs all over the state that are certified by the state's Department of Public Health. The state of Connecticut has almost the exact requirements as many other states. You must first pass one of the training programs that are approved by the state, with at least 100 hours of classroom teachings and 16 clinical hours. After which, you will be then eligible to take the license exam. The training hours should be divided in to lectures and skills training.
After their training, they can then apply for the license exams by submitting the necessary documents and undergoing the necessary health exams. They must submit a copy of their transcripts, proof that they have completed training program, ID photo, fingerprint card, as well as the results for the background checks. They must also be deemed physically healthy and fee from any communicable diseases.
The license exams for this state are handled by Thomson Prometric. Their exams are composed of a written and a skills evaluation. To get their license and their name entered in the state's registry, they must pass all the exams.
This city can be found in Fairland County. With a total of 144,229 residents living in the area, this makes Bridgeport the most populous city in the state of Connecticut. It is a part of the Greater New York City Combined Statistical Area. The city is sometimes called as the Park City or The Port. It has a total area of approximately 19.4 sq miles, and has a population density of 8,720.9/sq mile.
The St. Vincent's Medical Center, Bridgeport Hospital, Bridgeport Health Care Center and the Watermark Retirement Communities are some of the biggest employers in the city. Other health care centers that you can find in the city include Physician Connection, Bridgeport Community Health Center Inc., Southwest Community Health Center Inc., Hong KONG Health Clinic Inc., St. Vincent's Behavioral Health Services, and many more. photo attribution: departmentofed