The nurse aide schools that are licensed by the state and available in the town of Danielson, Connecticut are all listed in detail on this page. If you know other certified training programs that are being offered as of the moment, please contact us and we will add them to the page.
Haven Health Care Center
111 Westcott Road,
Danielson, CT 06239
(860) 774-9540
Quinebaug Valley Community Tech College
1320 Main St.,
Danielson, CT 06239
(860) 774-1133
Completion of a CNA training program is one of the requirements for you to become a certified nursing assistant in the state of Connecticut. The state does not allow any nurse aide to work without a state issued license.  According to the state rules, it must initiate and maintain a standard for nurse aide care by requiring its employees to undergo proper training and take a competency examination afterwards. Aside from maintaining and improving the quality of care, it also serves as a guideline for the training and evaluation of is nurse aides who work in any healthcare facility.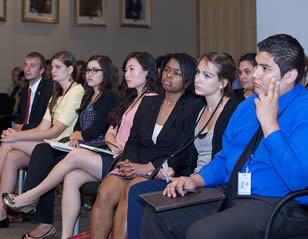 In order to become eligible for the competency exams, the aspiring nurse aide must complete a program that is certified by the state. They must have at least 100 hours of classes and exposure to the clinical area. Before any student is allowed to handle actual patients, they must have at least 16 hours of skills training and education on infection control, communication skills, safety procedures, resident's right and independence, and emergency protocols. Once finished with the training program, you must pass a certification exam to be able to practice legally. The license exams for this state are conducted by Thomson Prometric. Their exams are composed of a written and a skills evaluation. In order to receive their license they must be able to pass both parts. It shall be the Department of Public Health who will be the one to issue certification/licenses. For more information about the exams and how to become a nurse aide, you can visit www.prometric.com.
This is a borough that is located inside Killingly. It is also a part of Windham County. According to the last census that was taken in the area, their total population was around 4,265 people. This borough has a total area of about 1.2 sq miles, where only 0.1 square mile of it is water. Its population density is estimated to be around 3,860.7/sq mile.
Examples of health care providers and centers that you can find within the area include Danielson Health Center, Purcell Anthony J Doctor of Osteopathi, Day Kimball Healthcare, Take Care Clinic at select Walgreens, Danielson Medical Associates PC, Generations Family Health Center, Physical Medicine, Northeast CT Dermatology Associates, and Davis Marguerite M MD. photo attribution: departmentofed