The nursing assistant schools in Norwich, Connecticut that are currently open for enrollment are listed on this page. You can ask for more details about their licnesed training programs by calling the number below.
American Professional Educational Services
One American Way,
Norwich, CT 06360
860-886-1463
Norwich Technical High School
590 New London Turnpike,
Norwich, CT 06360
860-889-8453
Three Rivers Community Technical School
574 New London Turnpike,
Norwich, CT 06360
(860) 885-2307
Although each state has different requirements, they still have common requirements. According to the rules of this state, all those who want to have a career as a nursing assistant must undergo the proper education and take the competency exams afterwards.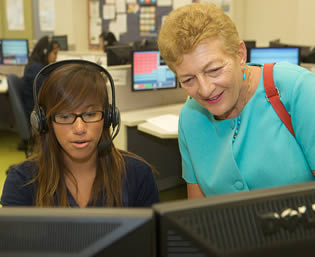 You can get the proper education by enrolling in state-approved CNA classes. These programs are offered by different institutions like colleges, high schools, and nursing homes. You can complete a program within 6 months of training; this of course will depend on the curriculum you enroll in. You must complete at least 100 hours' worth of lectures and 16 hours of clinical duty. During the training you must learn all the 25 basic skills needed for practice. Out of the 25 skills only 5 of them will be randomly tested during the examination.
When you complete your training, you can then apply for the license exams. The exams in this state are conducted by Prometric. Their exams are composed of a written and a skills demonstration exam. When you apply, all you need to do is to submit your completed application form and the needed paperwork. You will need to show a proof that you completed the necessary training, fingerprint cards, ID photo, and the payment for the exam fees. You will need to undergo physical exams and take immunizations to make sure that you are not carrying any contagious diseases. Graduates from other nursing courses like LPNs or RNs are also welcome to apply for the nurse aide license exams. If you want to find out more about the license exams, you can visit www.prometric.com or call them at 866-499-7485.
This city is a part of New London County. It was founded back in 1658 by settlers that were led by Major John Mason and Reverend James Fitch. Norwich is also referred to sometimes as "The Rose of New England". According to the census of 2010, their total population was around 40,493 people. It has a total area of 29.5 sq miles, where almost all of it is land. Its population density is 1,290/sq mile.
Health care centers that you can find in the city include Comprehensive Psychiatric Care PC, Concentra Medical Center, Eastern Regional Mental Health Board Inc., Connecticut Behavioral Health Associates PC, Integrated Behavioral Health Inc., Interim HealthCare, Backus Physicians Services, Umass Memorial Health Care Lab Outreach, Norwich Holistic Health Center, West Side Medical Center, and Health call Primary Care Center. photo attribution: departmentofed