The nursing assistant schools in New Milford, Connecticut that are currently open for enrollment are described below. Included in the list are training programs that are approved and authorized by the Department of Public Health.
Candlewood Valley Health and Rehabilitation
30 Park Lane East,
New Milford, CT 06776
860-355-0971
New Milford High School
388 Danbury Road Route 7,
New Milford, CT 06776
(860) 350-6647
To become a nursing assistant, you must meet the different requirements that are required by the state. According to the rules all aspiring nursing assistants must undergo proper education and training. You can get your training by enrolling in a state-approved CNA training program. You can find that these programs are offered by different institutions such as colleges, community training centers, and some nursing homes.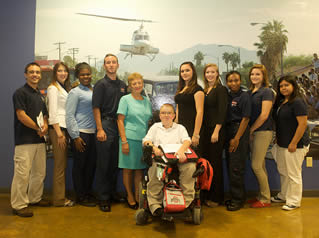 To complete the program, you must have at least 100 hours of training. Your training will be divided in to theoretical lessons and skills training. You will also have the chance to work in an actual clinical area and handle different residents. Among the 25 basic nurse aide skills that are taught in the programs, only 5 of them will be tested during the examination.
After you complete your training, your next task is to apply for the license exams that are conducted by Thomson Prometric. Their license exams are composed of a written and a skills demonstration exam. To get your license from the Department of Public Health, you must pass all the exams. Since there is no partial passing for the license exams, if you fail in one part you must retake the entire exam again.
If you are a holder of a valid CNA license that was issued from a different state, you are still welcome to apply for reciprocity. When applying you should make sure that your license is valid. You will also need to provide a copy of the results for your background checks that are done at both federal and state levels. Since you have already taken the license exam, you will no longer be required to take this state's license exam.
This is a town that can be found in the southern part of Litchfield County. You can find it a few miles north from Danbury. This town was founded on 1707 by John Noble Sr. New Milford is also considered as a census-designated place. This town has a total area of 63.7 sq miles, where 2.1 square miles of it is water. Its total population was 28,667 during the 2005 census. Major roads that are accessible from the town are Routes 7 and 202.
Health care centers and providers whose services you can avail in the town include Kupson Walter J II Doctor of Osteopathi, New Milford Hospital – Mental Health Clinic, Behavioral Health Services of New Milford Hospital, Northwest Center for Family Service/Cmha, Take Care Clinic at select Walgreens, and many more. photo attribution: departmentofed