The nursing assistant training centers in East Hartford, Connecticut that are currently offering their classes are all listed on this page. If you have further questions, please call the number below.
American Red Cross
205 Burnside Ave.,
East Hartford, CT 06108
(203) 787-6721
Connecticut Training Centers
1137 Main St.,
East Hartford, CT 06108
(860) 291-9898
East Hartford High School
869 Forbes St.,
East Hartford, CT 06118
(860) 282-3200
Goodwin College
745 Burnside Ave.,
East Hartford, CT 06118
(860) 528-4111
To become a nursing assistant, you must complete the different requirements of the state. The first requirement that you must comply with is the completion of a CNA training program that is approved by the state. These programs offer about 100 hours of theoretical classes and at least 16 hours of skills training before they send the student to the clinical area. When they are in the clinical area, the students will be placed under the supervision of a registered nurse. It will take a few weeks to a few months to complete your training, depending on the program you enrolled in.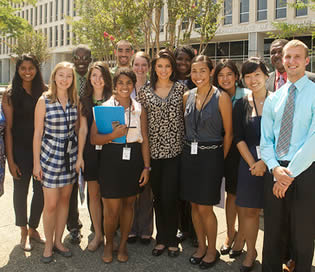 Once you have completed a state-certified training program, you will then become eligible to apply for the state's competency examinations. You will need to submit the completed application forms along with the necessary paperwork like proof that you have receive training and education from a CNA training program, fingerprint cards, ID photo, and the payment for the fees. You will also need to get immunizations and undergo physical exams to determine that you are capable of handling different patient and are not carrying any communicable diseases. Aside from the completion of a training program, another important requirement for the application is the results for the background checks. Having records such as violence or thefts can affect your applications greatly.
The passing of a certified nursing assistant training program that is approved by the state of Connecticut is one of the requirements for you to practice in the state. Most of the training programs that are listed above will last from 2 months up to 6 months. After passing, you will then be able to take the exam within 2 years after the completion of the training program. All of the applications are sent to Prometric. They are the ones who handle the nurse aide license exams for this state. To get your name entered in the state's Nurse Aide Registry, you must pass both the written and the skills demonstration exams.
This is a town that can be found in Hartford County. The earliest settlers in the area came as early as 1631. This town was only incorporated in 1783. According to the last census, their total population was around 51,252 people. It has a total area of 18.8 sq miles, where almost all of it is land. Its population density is estimated to be 2,847/sq mile.
Health care providers that are located within the town include Saint Francis Care Medical Group PC, Trinity Health Service, Hartford Medical Group, Connecticut Association of Health Care Facilities Inc., Gentiva Health Services, Maxim Healthcare, Gentiva Home Health, Alliance Healthcare Solutions, East Hartford Healthcare & Rehab, and Integrated Physicians Management Services. photo attribution: departmentofed