The facilities that are enrolling for nursing assistant training in Bristol, Tennessee as of the making of this page are all listed here. If you know of any additional state approved classes that are currently available, you can send them to us so that we can add them here.
Cambridge House
250 Bellebrook Road,
Bristol, TN 37620
(423) 968-4123
One of the best ways to enter the medical field is to train and become a nursing aide. Working as a nursing aide will put you under the watchful eye of registered nurses. A nursing aide helps take care of the patients by providing the nursing care that is delegated by the nurses.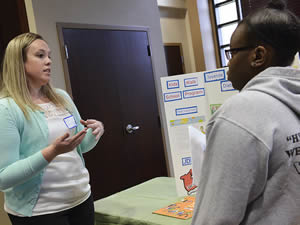 To work as a nursing aide in Tennessee, you must be certified and be listed on the Nurse Aide Registry. There are two ways to gain entry into this state's NAR. The first is by challenging the competency exam, which is conducted by the Headmaster Testing Service. It is an exam that was developed to test the nursing aide candidate in terms of both knowledge and skill.
Candidates who wish to be certified will have to pass both the knowledge and skills test.
Before one can apply for the exam, you must first complete a state-approved training program. Because of the high demand for this profession, there are plenty of institutions that are now offering CNA training such as nursing homes, hospitals, community colleges, and even online courses. Getting military training as a medic or a military corpsman can also make you eligible to apply.
Schooling must include 75 hours of instruction that teaches 25 different fundamental nursing skills. Classes must be taught by a registered nurse that has at least 2 years experience. Once you complete your training you will be tested on 5 of the 25 skills, and take a knowledge quiz in order to be placed on the state registry.
The second way of getting into the NAR allows a currently registered CNA to transfer certification from another state to Tennessee. Except for applicants from Florida and North Carolina, applicants through this process will not be required to undergo training and testing. Applicants from Georgia are also not required to undergo additional training but must take the certification exam. To protect the interest of the patients, all applicants are required to pass the national criminal background check before being accepted.
Once your name is on the Registry, it will be your responsibility to maintain your record. If you change your name or address, you will need to inform the NAR by sending them a letter. For name changes, you must provide proof of legal change such as a marriage certificate. For changes of address, you will need to provide your name, social security number, and your new and old address.
To keep your name on the Registry as well as your eligibility to work as a CNA, you will have to renew your certification every 24 months. To be eligible for renewal, you must work a single 8-hour shift as a paid nursing aide in a health care facility that is approved by the Division of Health Care Facilities. Failure to renew will make your certification expired. An expired certificate cannot be renewed. If you wish to continue working as a CNA after your certificate expired, you will have to undergo retraining and retake the certification exam again.
Tennessee offers reciprocity for CNAs that come from different states in almost all other states, except for those that come from Georgia, North Carolina, and Florida. If you are a nursing assistant that comes from Florida or North Carolina, then you must undergo retraining in a Tennessee-approved training course and take their state exam. If you are from Georgia, they you are only required to take their examination.
The city of Bristol is a part of Sullivan County. This city is the twin city of the Bristol that is in Virginia. This city is also known as "The Birthplace of Country Music". It is a principal city of the Kingsport–Bristol–Bristol, TN-VA Metropolitan Statistical Area. According to the 2010 census, their total population had reached up to a total of 26,702 people. It has a population density of 908.2/sq mile. The total area of the city is approximately 29.5 sq miles, where almost all of it is land.
Examples of health care providers and centers that you can avail in the area include Med-One Of Tennessee, Bluff City Medical Center, Laboratory Corporation of America, Southeastern Pain Management Center PLLC, Value Care, Abortion Alternatives & Crisis Pregnancy Center, Holston Medical Group, STD Test Express, Bma Bristol, Abortion Alternatives & Crisis Pregnancy Center, and Highlands Wellmont Health Network. photo attribution: westconn