The certified nursing assistant classes that are being offered in Bristol, Connecticut are listed below. Included in the list are only the nurse aide training programs that have been approved by the Department of Public Health.
Bristol Eastern High School
632 King Street,
Bristol, CT 06610
(860) 678-2154
Ingraham Manor Nursing Home
400 North Main Street,
Bristol, CT 06010
(860) 584-340
Nursing Care Center of Bristol
61 Bellevue Ave.,
Bristol, CT 06010
(860) 589-168
Sheriden Woods Health Center
321 Stone Crest Drive,
Bristol, CT 06010
(860) 583-1827
The first step in becoming a nursing assistant is enrolling in a CNA training course. The course has to be certified by state so that the applicant will be eligible to apply for the license exams after they complete their training. There are over 150 training programs that are certified to train in this state. You can find in the list below the programs that are located in the city. For a program to be approved by the state, they must offer their students 100 hours of classroom lectures and at least 16 hours of skills training. They must also let their students experience what it is like to work in a real clinical setting. The program must also be headed by a registered nurse with at least 2 years of experience, one of which was spend in a long-term healthcare facility.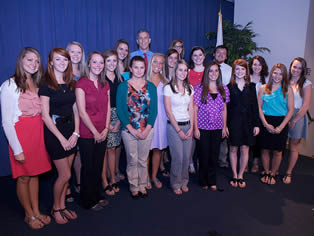 When you complete your training, you may then send in your application along with the necessary documents. You will need to submit proof that you have completed the necessary training, the completed application form, ID photo, fingerprint cards, and the payment for the fees. The application forms can be downloaded at www.prometric.com, where they can also find other useful information about the exams. Once you have passed and met all requirements, you can then take the license exam within two years after completion of the program.
Aside from those who graduated from a nurse aide training course, LPNs and RNs may also work as nursing assistants in this state. They must apply for the license exams and pass it in order to do so. Holders of nurse aide licenses are also welcome to apply for reciprocity. Since they already took the license exams in their state, they will no longer be required to retake it in Connecticut.
This suburban city is a part of Hartford County. You can find it situated a few miles southwest of Hartford. This city is well known as the home of ESPN. It is also sometimes called Bell City and Mum City. According to the 2006 census, their total population had reached up to a total of 61,353 people. It has a total area of 26.8 sq miles, where all of it is land, and has a population density of 2,320/sq mile.
The Bristol Hospital and Sheriden Woods Health Care Center are two fo the largest employers in the city. Other health care centers that you can find there include Alliance Behavioral Care At General Hospital, Community Health Center, National Healthcare, Countryside Manor Health Care Center, Shepard Meadows Therapeutic Riding Center Inc., Nursing Care Center, and many more. photo attribution: departmentofed