The certified nurse aide training courses in Manchester, Tennessee that are being shown on this page offer the current programs that you can enroll in at this time. Call the school to get more details on tuition costs, license requirements, and class schedules.
United Regional Nursing Home
1001 McArthur Dr.,
Manchester, TN 37355
(931) 728-3586
Manchester Health Care Center
395 Interstate Drive,
Manchester, TN 37355
(931) 723-8744
To become a nursing aide means that you will be working under the care of registered nurses and other members of the medical team. The tasks that a nursing aide performs depend on which tasks are delegated by the nurses. Most of the tasks are routine and basic such as vital signs taking.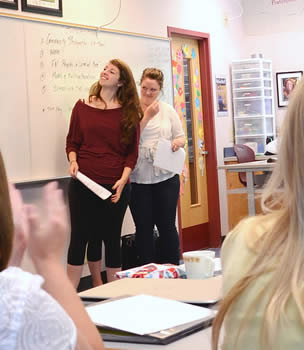 Before you can work as a nursing aide, you must first learn the knowledge and skills needed to take care of the patients. The best way to do this is to enroll and complete a state-approved training program. You may find these programs offered by different educational and training facilities, some of them are even offered online. When enrolled, you will spend at least 75 hours in the classroom for lectures and in the clinical area for your on-the-job training. Inside the classroom you will learn basic theoretical elements of the medical profession that are required by by state and federal regulations. For the clinical skills portion of the class you will learn 25 specific nursing related skills you will need during your testing phase and while on the job.Depending on which program you choose to enroll in, it can take you 12-16 weeks to complete your training.
Once you are through, you can then take on the certification exam. This exam consists of a written (or oral) exam and a skills evaluation. To pass the written section you will need to score 70% or more. For the competency test you will need to successfully demonstrate five of the skills you learned during school. Those who pass both tests are included in the registry and you will get the ability to be hired in the state. If you pass both exams, your name will be added to the Nurse Aide Registry. According to the law, only nursing aides who are listed on the NAR are allowed to work in nursing facilities that are approved by the Division of Healthcare Facilities.
Employers are required to check the certification of all applicants before hiring. They will only hire those who hold a valid or active certification. You can also check your own or another's certification by going to http://health.state.tn.us/Licensure/default.aspx. To search, all you need is to enter the complete name of the nursing aide.
Because of the shortage of nursing aides in Tennessee, these workers from other states are also welcome to apply for reciprocity. This process will allow them to transfer their certification from the state they come from to Tennessee. When they apply, it is important that their certification is still active and that they have a clean record. All applicants through this process are also required to pass the national criminal background check.
To keep your name on the Registry, you must renew your certification very 2 years. Failure to renew will result in the expiration of your certification. No CNA is allowed to work in a certified nursing facility with an expired certification. If you wish to regain entry into the NAR after your certification has expired, you will have to complete another training program and retake the certification exam.
Manchester is the county seat of Coffee County. It can be found in between Chattanooga and Nashville on Interstate 24. This city is a part of the Tullahoma, Tennessee Micropolitan Statistical Area. During the 2010 census, they had a total population of 10,102 people and a population density of 920/sq mile. The total area of this city is estimated to be about 11.0 sq miles, where all of it is land.
Examples of health care facilities and centers that are located in Manchester, TN include Family Healthcare, Neuromed, Physicians Medical Care, Bradford Health Services, Intrepid USA Home Health Service, Care Plus Home Health Services, Intrepid USA Home Health, United Medical Group Specialty Clinic, Manchester Health Care Center, and Banyan Healthcare and Wellness Center. photo attribution: ufv