On this page you'll find all of the nursing assistant classes in Colorado listed by city. This list includes health center training facilities, public colleges, and private nursing assistant schools.
Click on a link below for additional details such as school address, and phone number for CNA classes in a particular city. Before choosing a training facility to enroll in make sure that is provides the necessary amount of hours of instruction and course curriculum to meet state requirements.
CNA Classes in Colorado by City
Getting Certified as a Nursing Assistant in Colorado
One should first take certified nursing assistant classes in Colorado before he or she can work as a nursing assistant.  It is also important to take training programs from state approved institutions.  When you enroll yourself in such institutions, you can be sure to be allowed to take the state competency exams.  The state board of nursing is the one who sets the standards or requirements which should be complied with in a training program. If an institution does not have a state approved curriculum then, you would not be allowed to take the examinations.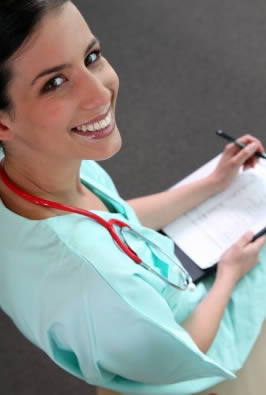 What is the Growth Rate for CNA Job Openings in Colorado
There is a great job opportunity waiting for those who are going to finish nurse aide training in Colorado. The job has a high amount of excellent openings as there is a continuing demand for health workers in the state.  According to a research by the Colorado Department of Labor and Employment, one can expect a 29% employment growth for nursing assistants up to the coming years.  This can be due to the fact that technology has helped people live longer nowadays and with better health facilities, more and more people need the assistance for their day to day living.  This is a very positive outlook for job seekers who wish to work as nursing assistants.
Who is in Charge of Certifying Nursing Assistants in Colorado
The Colorado Board of Nursing is the one which is in charge of licensing and certifying nurse aides.   They promote the rules and regulations and set the curriculum for CNA programs in the state.  The state does not require a high school diploma in order to enroll in a certification program.  You may however need to work for your GED if you wish to have a higher earning once you begin work.
How do I Get Training to Become a Nursing Assistant in Colorado
There are various community colleges which offer nurse aide training in Colorado and are state approved.  The course can last from 4-12 weeks depending on the program.  You can check out the following schools for their training courses: Academy of Medical and Health Science, Colorado Springs; Aims Community College, Fort Lupton; Adams City High School, Commerce City; Aims Community College, Greely; and Ann Rose School of Nursing Arts, Westminster.
Aside from technical colleges, there are also nursing facilities which offer free CNA training programs although this may entail working for them when you finish the course.  Sometimes, you could also be compensated by the government for your school fees if you are able to find work within a few months from your graduation. You would also be taking the state competency exams after you graduate from the course and it is conducted by Pearson Vue online. Click on one of the cities in Colorado listed above to get details on all of the state approved classes currently being offered.
How Much Does a CNA Make in Colorado
The average hourly wage for nursing assistants in Colorado is $13.16.  One's salary though can range from $10-$17 per hour depending on your employment setting and your experience.  This translates to about $27,500 average annual salary. You can have a starting salary of about $20, 570 a year but if you have a specialization or are well-experienced you can receive for as much as $36, 030 a year. That is not yet including other perks and benefits that can come with the job.
What are the Requirements to Become a CNA in Colorado
The state of Colorado requires a mandatory certified nurse aide certification license requirement. Upon employment as a nursing assistant the employee has 4 months to get their certification to practice in a nursing home or a home health agency. You may receive your nursing assistant certification by taking the examination or by endorsement. Click here for more information on CNA requirements in Colorado.
To apply for certification in the state of Colorado you should consider completing a Colorado state board approved nurse aide training program within the state of Colorado. You can also attend college as a nursing student and complete five semesters of nursing fundamentals.
Do you know of a CNA training program that is not listed on this website? If so please contact us and let us know. We would also appreciate it if you help let us know if any of the information on this directory is out of date.