The CNA Classes in Westminster that are approved by the state of Colorado and currently open for enrollment are shown on this page. For more information about taking the nursing assistant certification exam, class schedules or tuition fees, just call the number provided.
Ann Rose School of Nursing Arts, Inc.
7280 Irving Suite B205
Westminster, CO 80030
Program Coordinator: Cathy Schaad, RN
(303)-650-2994
Front Range Community College
3645 W. 112th Ave.
Westminster, CO 80031
Contact: Megan Jensen, RN
(303)-404-5261
Westminster High School Health Studies
6993 Raleigh Street
Westminster CO, 80030
Contact: Kathy Floyd, RN
(303)-428-9541
The first step in becoming a nursing assistant is enrolling in a CNA program. There, they will learn the all the basic skills and knowledge that they will use to take care of the patients. As nursing assistant students, they will be spending 80 hours of training, which will be composed of theoretical lessons and skills training. These programs are being offered by colleges, high schools, as well as healthcare facilities.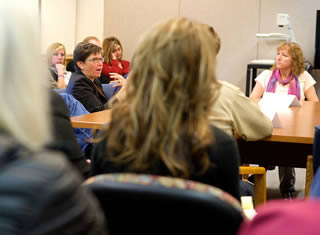 During their time in the program, students will be taught in different subjects like infection control, basic nursing care, patient's rights, communication skills, restorative care, and other important topics. Their training will also include hands-on training at the clinical area. This means that prior to that they must be taught in the basic nursing skills like vital signs monitoring, offering and removing bedpans, performing bed baths, emergency procedures, and post-mortem care.
After they complete their training, they can now apply for the NNAAP examination, or the National Nurse Aide Assessment Program examination. The examination is composed of a written and a skills demonstration exam. The written exams are taken online, while the skills demonstration must be done personally. The applicants are required to pass both parts in order to get their license.
Westminster is a Home Rule Municipality that is under Adams and Jefferson Counties. This is a northwest suburb of Denver. You can find this city a few miles from the State Capitol. According to the 2010 census, their total population has reached up to 106,114. It is considered as the seventh most populous city in the entire state. Their total area includes 32.9 sq miles and has a population density of 3,203.9/sq mile.
Health care centers that you can find in the city include Heartland Home Health Care & Hospice, Red & White Holistic Health Care Center, Kaiser Permanente Health Care – Pharmacy, Heartland Home Health Care & Hospice, Kaiser Permanente Health Care, Infinity Health Care Consulting, and Rocky Mountain Health Care Services. photo attribution: departmentofed