You can take certified nursing assistant classes in Texas if you wish to work in healthcare facilities and long-term care services.  The market is now demanding more and more healthcare workers due to the current increase of persons which demand such kind of work as well as the increasing cost of hospitalization.  If you wish to be able to work as a nursing assistant in Texas, you need to finish a state approved training program first, and then pass the state competency examinations.  After you pass these requirements you will be entered in to the nurse aide registry and will be eligible to work in the state.
CNA Classes in Texas by City
There are now more and more people needing the services of healthcare workers due to the growing population of the aged and the elderly as well as the increasing numbers of people who become afflicted with various types of diseases.  As we all know, the cost of being in a hospital for even a day can be quite costly for one.  Aside from that, the number of patients in hospitals requires that there should be additional healthcare workers who would do all the extra work.  So having that in mind, you will be able to realize how much nursing assistants can be valuable and in demand in healthcare work today.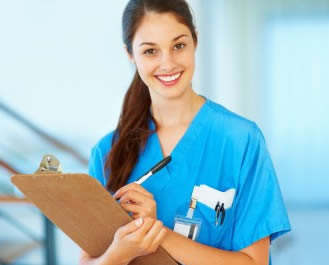 What Are the Nursing Assistant Certification Requirements in Texas?
In order to start on your path to becoming a certified nursing assistant, you need to find first a state-approved CNA training program.  Find a training program which has been approved by the Texas Department of Aging and Disability Services or DADS.  There is a list of several institutions that provide such training on the state's Department of Health website which will be your guide to choosing the best one for you.  The state will not allow you to take the state competency examinations without their approval.
CNA training in Texas requires that you should be at least 18 years old upon enrollment, should have finished secondary education or show proof of something equivalent, pass a test for basic math and reading skills, as well as have a negative result for a TB test. You can read more about certified nursing assistant certification requirements in Texas by clicking this link.
What Do You Learn in CNA Training in TX?
Nurse aide training programs are made to provide students with the basic skills and knowledge that are required for nurse aide work.  Subjects that are commonly covered are communication skills, resident rights and independence, infection control, safety and emergency procedures such as CPR, and nutrition.  There are also subjects about human anatomy and physiology as well as medical terminology.  These are required since nurse aides are also expected to provide information regarding such matters in case their patients or families want to know.
How Much Does a Certified Nurse Aide Earn in Texas?
Training facilities that offer CNA programs in Texas are CTK Healthcare and Career which offers the course for $713 which includes fees for books, exam fees, tuition and other study materials; and the Lonestar Colleges in Kingwood and Montgomery which offers the course for $573. There are also training courses in Austin Community College and Wharton Junior College. You can earn an average annual salary as a CNA in Texas for about $20,800. Your salary can be higher or lower if you depending on your location, employer, and length of service as a experienced nursing assistant. In addition many health care facilities offer opportunities to work overtime as well as advance to higher positions with further education and experience.