The certified nurse aide training programs that are being offered in Bowie, Texas are all shown here in detail. To find out more about their certification programs, you can call them with the number provided below.
Bellmire Health Care Facilities
1101 Rock,
Bowie, TX 76230
(940) 872-2283
Texas requires its nurse aides to have a certification to be able to work in this occupation. As nursing assistant students they are only allowed to work up to 4 months while they go through a training program. Before you sign up for a program you will want to make sure it is licensed through the Department of Aging and Disability Services signifying it meets state requirements.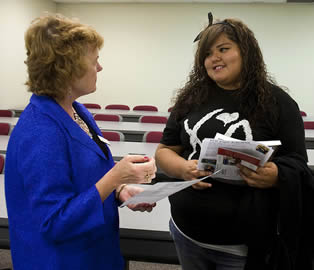 During your instruction you will get classroom instruction that provides procedural knowledge of common nursing aide related tasks. In addition you will get skills training to provide you with hands-on practice with frequently used tasks. Upon completion of your class they can schedule a date for you to take the competency exams to get your certification. You can also contact NACES at (512)467-0615 or at 1-800-444-5178 to find a testing facility nearby.
To get a certification you must take and pass the state license examinations. Once you pass your name will be listed as active on the registry and you will get your license. Being certified on the registry is good for 24 months and will need to be renewed for each 2 year period. You can call the automated phone system to check your status on the registry by calling 1-800-452-3934.
Reciprocity is offered in TX to certified nurse aides from other states. To see if you qualify you will need to submit a DADS reciprocity form and you must currently be listed in your states registry with an active status. You are additionally required to be in compliance with
all applicable federal laws.
The city of Bowie is situated in Montague County. It was named after James Bowie. According to the 2010 census, their total population had reached up to a total of 5,219 people. It has a population density of 945.6/sq mile. The total area of Bowie is estimated to be about 5.52 square miles, where all of it is land.
There are a lot of health care providers that can be located within the city area; they include McCaig Delbert L DO, United Clinics of North Texas, Sharing The Love of Dolls, Helen Farabee Regional Mhmr, Bellmire Healthcare Facilities, Integracare Home Health Services Inc., and Bowie Medical Clinic. photo attribution: codnewsroom