The CNA classes located in Irving, Texas that are listed here have the most recent and up to date training programs that you can enroll in as of the making of this page. Call the facility listed below to get the most recent details about enrolling in their program.
CTK Healthcare and Career Institute
3317 Finley Rd.,
Irving, TX 75062
(214) 492-1335
Jack E. Singley Academy
4601 N. MacArthur Blvd
Irving, Texas 75038
Contacts: Director, Debra Johnson or Sheila Browning
(972) 600-6556
Completing a nursing assistant training program is one of the requirements to be able to take the license exams. You must have a CNA certification if you are planning on working in health care centers in the state of Texas. Current students are allowed to work in a facility for only up to 4 months before needing a license.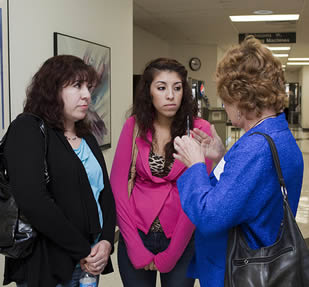 Before enrolling in a course you will want to make sure it is accepted and licensed for instruction by the Department of Aging and Disability Services. Classes are required in this state to offer 24 hours of clinical experience practice and 51 hours of theoretical course instruction. During the clinical part of the course you will receive hands-on practice using equipment and performing tasks used on the job of a nurse aide.
A few of the skills you will learn are: catheter management, transporting patients, dressing, toileting, bathing, feeding, housekeeping, range of motion exercises, measuring vital signs (blood pressure, pulse, respiration,) and infection control methods.
When your class is finished you can call the Nurse Aide Competency Evaluation Services at (512) 467-0615 or toll free at 1-800-444-5178 to help you find a location to take the competency exams. Alternatively, you can ask your school to help you schedule a time to take the test. When you go to take the exam it will be provided in two parts. This is a written test with seventy different multiple choice problems, and a manual skills demonstration. The applicant receives three chances to pass each part. In addition the test must be passed within 24 months of when you took your training program.
Those who complete the exam successfully become certified to work. If you want to check the status of your certification on the state registry you can do so by contacting the phone system at 1-800-452-3934. Being added to the nurse aide registry gives you a valid listing for 24 months. You will need to renew your registry status by sending in work verification to prove you have been employed during that time.
This community was founded back in 1903 by Otis Brown and J.O. "Otto" Schulze. It is located in Dallas County. It is widely believed that the name of this city was taken from the literary author named Washington Irving. With a total population of 216,290 people during the 2010 census, they are the 13th most populous city in the state of Texas. They have a total area of 67.7 sq miles and a population density of 3,194.8/sq mile.
Health care providers and clinics that are available in the city include Iron Mountain, Cano Health & Rehab Clinic, Senior Healthcare Partners, Fresenius Medical Care, MSI Health Care, National Health Service, Medical & Surgical Clinic of Irving, Senergy Medical Group, and North Texas Health Care Association. photo attribution: codnewsroom