The classes for one to become a certified nursing assistant in the city of Rowlett, Texas are all shown here. If you know of other programs that are state approved and being offered in the area, please contact us and we will add them to the page.
Healing Hands Training Center, LLC
2006 Benedict Ct.
Rowlett, Texas 75088
Administrator: Gigi Mathew
(972) 412-7953
Rowlett Nursing Center Nurse Aide Program
9300 Hwy 66,
Rowlett, TX 75088
(972) 475-4700
To work as a nurse aide in Texas you must go through an approved instructional course and pass the state's competency exams. School classes must be licensed by the Department of Aging and Disability Services. In addition, they are required to provide at least the minimum amount of hours of instruction. This is currently set to a total of 75 hours, which is split between 51 hours of theoretical course instruction and 24 hours of hands-on skills work.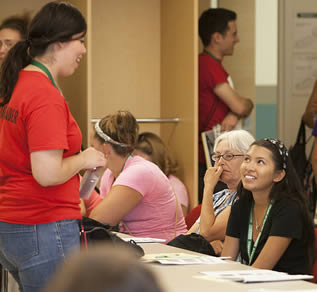 During your skills practice you will get to experience the common tasks typically used during the job. Some of the skills you will experience using include the following: range of motion exercises, taking vital signs, managing patient catheters, housekeeping, toileting, bathing, dressing, feeding, transporting patients, infection control procedures, and assisting to ambulate.
when you are ready to take the exam to receive your certification you should have your school help you find a test site. You can also contact the Nurse Aide Competency Evaluation Services, also known as NACES at 1-800-444-5178 or (512) 467-0615 to help you find a location to take the exam. It is important that you pass this test before 24 months has elapse from the time of your training or you will need to retake that requirement.
During the exam you will need to pass two parts. These parts are a manual skills test and a written test. It's necessary to complete both parts in order to qualify for certification. You are allowed three chance to pass each of the two parts. Those who do become certified and listed with active status as a nursing assistant in the registry. You can find out if you have active status by contacting the credentialing phone number and following the prompts at 1-800-452-3934.
CNAs that received their training and certification from a different state are much welcomed to find work in Texas. Before they can work in this state, they must first apply for reciprocity. When applying for reciprocity, they must have and active license and a good relationship with the state they came from. They will also be asked to provide documents that will show their training and experience.
The city of Rowlett belongs to both Rockwall and Dallas Counties. It is considered one of the suburbs of Dallas and was named after Rowlett Creek. You can find this city on Lake Ray Hubbard. As of the 2010 census, their total population had reached up to a total of 56,199 people with a population density of 2,800/sq mile. Rowlett has a total area of 20.2 sq miles. Nearby communities that you can find include Garland, Sachse, Sunnyvale, and Rockwall.
The Fresenius Medical Care, Alternative & Traditional Medical Center, Olives Home Healthcare Inc., Medical Edge Healthcare, Physician Reimbursement Expets, Lake Pointe Medical Center, Steadfast Home & Mental Health, North Texas Health Services, Signet Healthcare Services LLC, Lake Pointe Wound Care Center, and STD Test Express are examples of health care centers that are located in the city. photo attribution: codnewsroom