The nursing assistant courses available in Keller, Texas are all listed here. If you know of other state approved listings that are open for enrollment, contact us and we will add them to the page.
Keller CNA Program
9450 Ray White Rd
Keller, Texas 76244
Director: Monica Haverkamp
(817) 744-2146
Mimosa Manor Nursing Assistant Program
459 Keller Parkway,
Keller, TX 76248
(817) 431-2518
You must have an active license and nursing aide certification to be able to work as one in the state of Texas. To get a license you must first apply and take a Department of Aging and Disability Services approved training course and pass the state's CNA license exams. Before you can apply, there are certain things that you must complete. One of them is to submit proper documentation, and pass the criminal background check.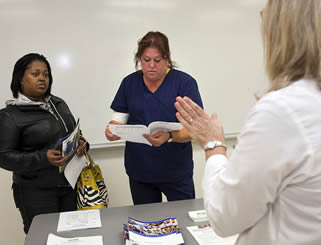 When you are enrolled in your program you will receive training in the class as well as clinical practice performing popular nursing assistant tasks. The minimum amount of instructional hours required by the state of Texas for nurse aides in currently set at 75 hours. This is broken down into 24 hours of clinical skills practice and 51 hours of coursework and lectures.
When you have finished the course you will want to set up a date to take the license exams. This can be arranged by your school or by calling (NACES) the Nurse Aide Competency Evaluation Services. You can reach NACES to find a exam test location by calling 1-800-444-5178 or locally at (512) 467-0615.
When you arrive for the exam you'll see that it is administered in two separate parts. These are a manual demonstration part and a written part. For the manual demonstration you must show that you can perform five different skills chosen at random and set in a medical environment. For the written part you will need to answer 70 different multiple choice questions. The applicant is required to pass both portions in no more than three tries each. Those who pass both parts within 24 months of taking their school requirement become certified nursing assistants.
Once you become certified you are listed as active on the registry and can work long term in health care centers and nursing homes. You will only need to renew your listing each 2 year period by submitting verification of time on the job. To find out your registry status you can call 1-800-452-3934 and enter your social security number when specified.
You can find the city of Keller in Tarrant County. It is one of the northern suburbs of Fort Worth and is included in the Dallas–Fort Worth metroplex. Keller is also known as the 'Home of the Indians". As of the 2010 census, their total population had reached up to a total of 39,627 people. It has an estimated population density of 2,200/sq mile. The total area of this city is estimated to be about 18.4 sq miles, where all of it is land.
Examples of health care providers that are located in the city area and are serving its people include Ben Hogan Rehabilitation Therapy, CareNow, North Texas Women's Healthcare Assoc, Allergy & Asthma Centres of The Metroplex, Hidden Lakes Health Center Pll, Texas Health Care, Mayfield Family Healthcare, Physicians Services Inc., Keller Medical Clinic, and many more. photo attribution: codnewsroom