The certified nursing assistant training programs in Garland, Texas that are listed here are all licensed by the Department of Aging and Disability Services. If you want to know more about their requirements, fees, and class schedules, you can call them with the contact number provided.
Garland ISD
600 Colonel Dr.,
Garland, TX 75043
(972) 926.2700
Texas Nursing Training Program
2433 Goldfinch Lane,
Garland, TX 75042
(972) 272-5820
Texas Elite Nurse's Aide Training Program
2018 Aspen Lane,
Garland, TX 75044
(903) 510-2918
Metromed Nursing Institute
1115 South Jupiter Rd.,
Garland, TX 75042
(972) 495-5629
In order for you to work long term as a nursing assistant in Texas you need to have a CNA certification. This is accomplished by attending a state approved program and completing the required number of training hours. As of this writing those who wish to by nurse aides must go through 51 hours of coursework in the classroom, and 24 hours of hands-on skills practice.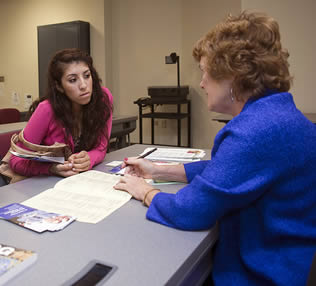 While in your clinical training you will learn many of the tasks used by nursing assistants throughout their workday. Some of the skills you will be taught are: transporting patients, nourishment, catheter care, toileting, dressing, housekeeping, range of motion exercises, recording vital signs (respiration, pulse, blood pressure,) infection control, communication, and safety procedures.
When you have completed the class you will want to schedule and pass the competency exam. You are allowed a total of 24 years to pass the exam from the time you took your course. Those who do not complete the exam in that amount of time must retake their training requirement. To find a location for the test facility you can contact the Nurse Aide Competency Evaluation Services at 1-800-444-5178. Typically your school can help you schedule a test date as well.
When you arrive to take the test you will be required to take it in two separate parts. These are a manual proficiency test where you will be required to demonstrate five different skills set in a medical environment. For the written test you will be tasked with answering 70 multiple choice items. Test takers are required to pass both tests in three tries each. Those who cannot complete the exams must retake their training. Successfully passing the exam enables you to receive your certification and be placed on the nurse aide registry with an active status. To check your status you can call the automated line with your social security number by calling 1-800-452-3934.
Those who are a certified nursing assistant from another state and are still listed in good standing may be able to apply for reciprocity. Texas also offers reciprocity to those that wish to work there who have completed an equivalent nursing related course. When you apply for reciprocity, you should just make sure that your certification is still active. You can call DADS at this number for more details about reciprocity guidelines 512-438-5495.
The city of Garland is mainly located in Dallas County. Some parts of the city however, fall into Collin County. Garland is included in the Dallas–Fort Worth metroplex. According to the census of 2010, it has a total population of 226,876 people, which makes them the 12th most populous city in the state. Major highways that you can use to get to Garland are Intestates 30 and 635, and State Highway 78. Garland has a total area of approximately 57.1 sq miles, where all of it is land.
Examples of health care clinics that are available in the city include Galt Medical Corp, Adolescent Care psychcenter, Procare Medical Clinic, Family Allergy Clinic, Forest Medical Care, Mental Health and Mental Retar, Oasis Health Center, Merit Healthcare Services Inc., Day Spring Products & Service, Lifeline Home Health Services, Garland Treatment Center, Bio Care Home Healh Services, and Prima Health Clinic. photo attribution: codnewsroom