The schools conducting classes to become a nursing assistant in Lufkin, Texas are available on this page. You can find out more about their programs by calling the phone number provided below each program.
Angelina College – Abundant Light of Livingston
3500 South First St.,
Lufkin, TX 75902
(936) 639-1301
(Multiple classes are being offered here)
The first thing that you must do to be able to become a nursing assistant is to enroll in a CNA training program that is approved by the Department of Aging and Disability Services. There are many facilities that you can choose from that offer such courses in Texas. If you complete the program, you are then eligible to take the state license exams; so long as you have met the other requirements.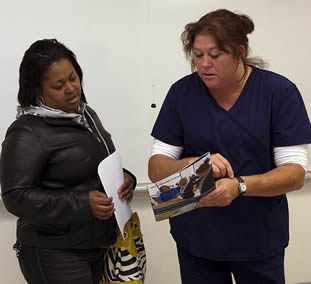 The class curriculum consists of training in a clinical setting that provides hands-on experience and classroom theoretical coursework. During your class you will get to practice many of the tasks you will commonly perform while on the job. Some of the skills you will learn include: transporting residents, measuring vital signs (pulse, respiration, & blood pressure, feeding, bathing, housekeeping, catheter care, toileting, range of motion exercises, communication, postmortem care, and safety procedures.
When you are ready you can schedule a time to take the competency exams in order to become certified to work. You can have your school set up a test date or contact the Nurse Aide Competency Evaluation Services at 1-800-444-5178 to find a nearby test facility. During the test you will need to answer 70 multiple-choice problems as well as demonstrate five different nursing aide proficiencies. You are allowed to try to take each part of the two-part test up to three times. Those who pass become active on the nurse aide registry and are eligible to work for up to 24 months before needing to renew. You can verify your active status on the registry by calling 1-800-452-3934 and following the automated prompts.
The city of Lufkin is the seat of government for Angelina County. Lufkin is situated in Deep East Texas. It was named in honor of Abraham P. Lufkin, who was a Texas city councilman and a cotton merchant. According to the census of 2010, their total population had reached up to a total of 35,067 residents. it has a total area of approximately 26.8 sq miles and a population density of 1,308.5/sq mile.
Health care clinics that are located in the area include Sharon Mcclure, M.A., L.P.C., STD Test Express, A Compassionate Care Home Health Services, Heart Rhythm Center of East Texas, Texas Home Management, Angelina Rehabilitation Center, Wilson Mckewen Rehabilitation Center, Consolidated Healthcare Services Inc., A Caring Touch Home Health Services, and Behavior Health. photo attribution: codnewsroom