The schools enrolling for nurse aide training that can be found in Bonham, Texas are listed on this page. For any questions, you can call one of the state licensed programs with the number provided below.
Clyde W. Casper TSVH
1300 Seven Oaks Rd
Bonham, Texas 75418
Administrating Director: Vurlane Day
(903) 640-8387
Seven Oaks Care and Rehabilitation
901 Seven Oaks Rd.,
Bonham, TX 75418
(903) 583-2191
Fairview Nursing Center and Rehabilitation CNA Program
1601 North Kennedy Street,
Bonham, TX 75418
(903) 583-2148
To become a nursing assistant in Texas you must take and pass the state license exams. Before you can take the exams, you must complete several requirements like passing the federal and state background check, submitting documentation, and passing a training program. The course you enroll in is required to be recommend by the Department of Aging and Disability Services. Classes must provide the proper instruction curriculum and amount of class hours. During your course you will receive two types of schooling, which are clinical practice and class coursework.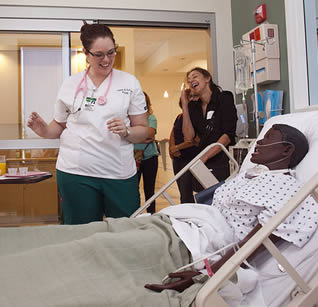 For the clinical part you will receive at the very minimum 24 hours of hands-on skills training. During your classroom part you will receive no less than 51 hours of theoretical instruction and lectures. The class is structured to provide you with the skills and experience to pass the license exams and be proficient while on the job.
After your class requirement is finished your school may be able to help you schedule a time to take the exams. The examination will be made up to two parts; a written/oral and a skills demonstration part. You are required to pass both parts to get your license. Each applicant is allowed to take each test up to three times and must pass it in that amount or be required to retake their training course. If you need help finding a location to take the competency exams you can contact NACES to help you at 1-800-444-5178.
Those who take the test can check their registry status at any time by calling the state registry hotline at  1-800-452-3934. Those who pass are sent a certification in 4-6 weeks and are listed in the state registry for two years.
Bonham is the county seat of Fannin County. It was named after James Bonham, who asked for help from James Fannin (the namesake of the county) during the Battle of the Alamo. This city is often referred to as "Booming Bonham" because of its constant growth and development. According to the census of 2010, their total population had reached up to a total of 10,127 people and had a population density of 1,100/sq mile. The total area of the city is estimated to be about 9.4 sq mile.
Examples of health care providers and clinics that are located in the area include Davita Dialysis Center, Family Care Clinic, Lakes Behavioral Health, Mental Health Mental Retardation Services of Texoma, Affinity2 Health Care LLC, Fannin County – Indigent Health Care, Bonham Specialty Clinic, Bonham Community Health Center, Life Planning Health Services, and many more. photo attribution: codnewsroom