Below you'll find the CNA classes in Oregon listed by city. Included in the list are nurse aide private programs, hospital training facilities, and college instruction classes. Click on the link for additional information such as the name of the school, town or city, address, phone number and website.
Before enrolling in any school programs you should always make sure they have been approved by the state and enable you to take the license exams. Passing the competency exams is mandatory to become certified and placed on the nurse aide registry which makes you eligible to work in the state.
CNA Classes in Oregon by City
Enrolling in Nursing Assistant Training in Oregon
One can apply for CNA classes in Oregon as one of the steps to become a certified nursing assistant in the state.  There are several requirements for enrollees such as not having any criminal conviction for crimes such as drug, theft, or violence and being physically fit to perform nursing assistant work.  An aspiring candidate should also be able to prove that he is free from communicable diseases such as Tuberculosis and other types of ailments.  The minimum set age is 16 and one should be able to have proper reading and writing skills before he can be accepted to the program.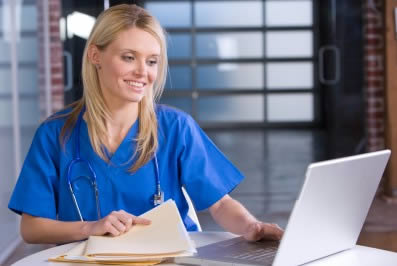 There are a lot of people who are now requiring the help of nursing assistants in their day to day activities.  Such people can range from those who have temporary ailments to those who are too old to take good care of them. There are also those who are chronically ill and cannot afford to be hospitalized for such long and intermittent periods of time.  Hence, there is a growing demand for healthcare facilities who offer long-term or home health services and these facilities need nursing assistants in order to carry out such tasks.
What are the Job Duties of a CNA in Oregon
Nursing assistants work under the supervision of registered nurses or licensed physicians and their tasks are more about assisting patients with their day to day personal needs.  Such tasks include preparing their meals; bathing, dressing, and grooming their patients; assisting them on their daily exercises; administering their medication if allowed by state laws; taking their patient's vital signs such as heart and respiratory rate and body temperature; and promoting their patient's rights and independence.  They are also taught how to administer emergency health procedures, provide infection control, inform their patient and their families regarding health concerns, and they also learn about communication skills especially with the impaired.
What Are the Training Requirements of Nursing Assistant Schools in Oregon
There are several facilities and schools which offer nursing aide training programs such as the Central Oregon Community College, Caregiver Training Institute, Samaritan Nurse Assistant Training Program, Cascade Medical School, Dallas Retirement Village, and Cornerstone Care Option.  They are all accredited and approved by the Oregon State Board of Nursing and are able to provide the skills and education required in order to pass the state certification. Training is composed of both classroom and clinical sessions which are done in a nursing facility. The minimum training hours are about 75 hours and should have at least 16 hours of clinical setting.
What Are the CNA Certification Requirements in Oregon
The applicant should apply for the state competency examination within two years after completing the nursing aide program.  One can apply to take the examination online which is conducted by Headmaster Testing services and the results are given at least 10 days after the test.  The test is composed of both a written and skills test which should both be successfully passed by the applicant in order to be entered in the state's nursing aide registry. Visit this link to get additional details about the nursing assistant certification requirements in Oregon.
How Much Does a CNA Make In Oregon
The average CNA salary in Oregon is about $$27,000 a year and this can be higher or lower depending on your length of experience, location, and type of employer. The nurse aides who enroll in a OSBN approved nursing assistant level 2 training course and pass the associated competency evaluation can make a higher salary .
If you know of a nursing assistant training program that is not listed on this page, please submit it for inclusion by clicking the contact us link.  In addition, if you have noticed any errors in the content on this page please let us know with the correct information so we can update the information.