The nurse aide training schools in North Bend, Oregon are listed below. Included on the list are two different levels of classes as well as other programs that their facilities offer. For more information about becoming licensed, program requirements, tuition cost, or class schedules, just contact the number provided.
Baycrest Village
3959 Sheridan Ave.,
North Bend, Oregon 97459
(541) 756-4151 or (541) 982-2995
mjplummer@baycrest-village.com
http://www.baycrest-village.com/
[Level 1 and Level 2 Nurse Aid Programs Available]
North Bend High School Nurse Assistant Program
2323 Pacific Ave.,
North Bend, OR 97459
541-756-8328
http://www.nbend.k12.or.us/
[Level 1 and Level 2 Nurse Aid Programs Available]
In the state of Oregon, it is against the state's law to work as a nursing assistant without a level-1 nursing assistant certificate. If you break this law, you may get a civil penalty which can reach up to $5,000.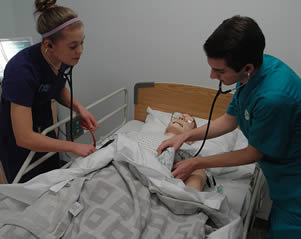 It is very important that when you handle the patients, you should know what you are supposed to do. That is why the nursing assistant certification process in the state of Oregon will always begin by receiving the proper education and training. For those who do not know where to get this training, you can enroll in an OSBN-approved training program.
These programs are offered by different training institutions like nursing homes, hospitals, and even private training facilities. If you are worried about the type of training that they offer, please know that these programs must also get certified by the state's Board of Nursing before they should take any students. As part of the requirement for their certification, they must use the curriculum that was created by the Board, which includes all the topics that were required by the federal government and added some emphasis on how to take care of geriatric patients.
To ensure that the nursing assistant students are competent, they must pass the evaluation exam before they are given their license. This exam consists of a knowledge test and a clinical skills test. It is conducted by the Headmaster Testing Services, so if you have any questions regarding the evaluation exam, please call Headmaster at (800) 393-8664 or visit their official website at www.hdmaster.com.
If you pass all the tests, your name will be entered in the Oregon Nurse Aide Registry and you will receive your license. The Nurse Aide Registry is a master list of the individuals who have met both the federal and state's requirements for training and testing.  Another way to get into the Registry, aside from passing the evaluation exam, is through endorsement. A CNA registered in a different state with an unencumbered record, and has accumulated 400 paid working hours as a nursing assistant may apply through this process. If you want to apply through this process, you can download a copy of the forms. The forms will also contain instructions on what you should do. If you have any difficulties in completing the forms, do not hesitate to contact the Board of Nursing at (971) 673-0685.
The city of North Bend has a total population of 9,695. It is part of Coos County. You can find that this city is surrounded on three sides by the Coos Bay as well as the Coos River. It has a total area of 5.1 sq miles and a population density of 2,473.2/sq miles.
Examples of the health care centers that you can avail of in the city include Waterfall Clinic, Bay Eye Clinic PC, Pacific Medical Services LLC, VA North Bend Clinic, Waterfall Community Health Center, US Coast Guard Medical Clinic: Tyson Hugh MD, North Bend Medical Center , and South Coast Orthopaedic Associates PC. photo attribution: ufv