The nursing assistant programs open for enrollment by schools in Stayton, Oregon is shown on this page. If you know of any additional classes available, please submit them to us for inclusion here. Contact the phone number provided for additional details about class schedules, nurse aide requirements, and tuition fees.
Santiam Memorial Hospital Nurse Aide Program
1401 North 10th Ave.,
Stayton, Oregon 97383
503-769-9070
http://santiamhospital.org/
[Level 2 Nurse Aid Program]
Becoming a nursing aide has now become one of the best means to start a career. The job opportunities in this line of work are continuously on the rise because of the increase of people who are more concerned about their health and need assistance with it. Experts believe that this increase will continue up to 2016.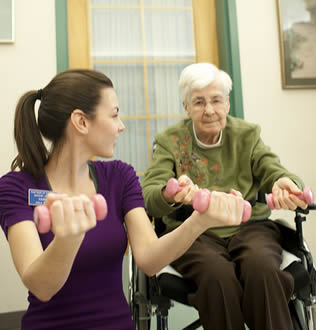 One of the benefits of choosing to be a nursing aide is its practicality. To start working as a one, you will only need to get certified. The process of certification may slightly vary for each state, but it will also start with you receiving proper training and ends with you challenging the competency evaluation exam. In Oregon, you can gain eligibility to apply for the exam by:
•    Completing an OBSN-approved nursing assistant 1 training program within the last 2 years.
•    Completing a certified training program from another state that still offers the minimum of 75 hours of training.
•     Training as a medic or a military corpsman and have worked for at least 400 hours providing related care within the last 2 years.
•    Completing or graduating from a nursing educational school within the last 3 years.
The competency examination consists of a 77-item knowledge exam, which also has an oral version, and a skills exam. In the skills exam, you will be asked to perform 5 nursing tasks that were taught in the training program. Out of the 5, the first one will always be proper hand washing. To get your certificate, you must pass all the exams within three attempts or within 2 years from the completion of your training.
The state of Oregon is very open to CNAs from other states. They can gain entry into the Oregon NAR through applying for reciprocity. The process of reciprocity in this state does not involve them taking another competency exam. They will only need to show proof of their training and experience, and pass the national background check. To be eligible, they must have worked for at least 400 hours as a paid nursing assistant.  These hours may be done working full-time or part-time. You can download a copy of the endorsement application packet through this link: http://www.oregon.gov/OSBN/pdfs/form/cnaendorse.pdf.
This city is part of Marion County. You can find it a few miles southeast of the state capital, which is Salem. It is also situated south of Sublimity and east of Aumsville. This city is on the North Santiam River. A major road that you can access in this city is the Oregon Route 22. As of the latest census, their population is now at 6,816. Back in 2007, it was incorporated as part of the Salem Metropolitan Statistical Area.
Health care centers that you can find in the city include Health Care Services, LLC (503) 977-0380, First Call Home Health Care (503) 371-4567, Primary Health Care Clinic (503) 364-8151, Fourtier Chiro Health Care (541) 926-0510, and Wellspring Immediate Care & Business Health Services. photo attribution: ufv