The nursing assistant training programs in Beaverton, Oregon are all shown on this page. this curriculum meets with the approval of the Oregon State Board of Nursing and will qualify you to take the certification exam. Talk with a school official to get more info.
Beaverton High School District
13000 SW 2nd Street,
Beaverton, Oregon 97005
www.beavton.k12.or.us/beaverton/
There is a large job opportunity waiting in the field for health. In today's recent trend, the most practical way to gain entry into this field is by becoming a nursing assistant in Oregon. Once you get a nursing assistant 1 license, not only will you gain entry into the field but you will also get a chance to further along your career with only a few additional training.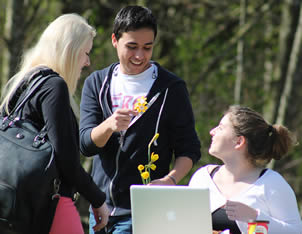 First of all, the initial step in this career path is to look for a training program that is approved by the state's Board of Nursing. Before you can fully work as a nursing assistant in a long-term care facility, you must first get the proper training by completing a CNA 1 training program. To complete a program, you must acquire 75 hours of classroom lectures, 75 hours doing practical training, and pass the program's final exam which consists of a knowledge-base and skill-base portions.
By completing a training program, you will be prepared to challenge the license exam. This exam, will consist of a written/oral test and a skills evaluation of the nursing procedures that were taught to you during your training such as:
•     Assisting with ambulation
•    Assisting in how to put anti-embolic elastic stockings
•    Assisting in the use of a bedpan
•    Doing bed bath
•    Catheter care
•    Foot care
•    Proper hand washing
•    Mouth care
If you are able to pass both exams, you will get your CNA 1 license within a few days after your name has been entered on the Nurse Aide Registry. So long as you have a clean record and an active license, you will be able to work in a nursing facility as a nursing assistant.
If you want to immediately further climb up the career ladder, you can either set your sights on becoming a certified nursing assistant 2 or become a certified medication aide. To become a CNA 2, you must have a valid license and be able to complete an OSBN-approved nursing assistant 2 training program (https://osbn.oregon.gov/OSBNOnlineReports/default.aspx?ReportName=OregonApprovedTrainingPrograms).
If you prefer to become a CMA, you will still need to have an active nursing assistant 1 license, complete a state-approved medication aide training course, pass the state and federal criminal background check, and pass the CMA competency evaluation exam.
Beaverton is a city that is part of Washington County. It is a few miles west from Portland. Their current population is now at 90,267 which make them the second-largest city in the county and the sixth in the entire state of Oregon. They have a total area of 16.3 sq miles and a population density of 4,664.5/sq miles.
Health care centers that you can find in the city include Doctor's Family Clinic & Immediate Care (503) 646-9222, Pregnancy Resource Centers (503) 643-4503, Pacific Medical Group (503) 644-1171, Health Plus (503) 574-3300, McCormack Miranda MD (503) 644-6495, Harden Psychological Associates (503) 533-9806, and Virginia Garcia Memorial Health Center – Beaverton Primary Care Clinic (503) 352-6000. photo attribution: ufv